Very cool:
(h/t edsbs and Barking Carnival.) The only thing cooler than that play is Holgorsen's Johnny Cash man-in-black look. More seriously, one reason that Holgorsen has had success in expanding on or putting "his own spin" on Leach's Airraid is that he has focused on packaging concepts. In addition to packaging the "stick" passing concept with a draw play as described above, I've seen several other instances. One that I remember from his time at Houston — though I don't have video of it on hand — was a "packaged" screen/downfield pass concept. Sometimes teams package a screen play with a tight-end drag or cross, where if the linebackers flow to the screen the tight-end could be open, but Holgorsen's version attacked the safety on a wide receiver screen, as shown below: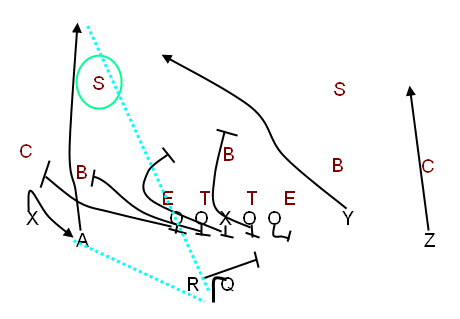 The idea was that everyone else was blocked, but if the safety attacked the screen — not an unbelievable idea that he would, considering how many screens Houston used — the quarterback could loft it to the slot receiver who faked a block and then ran straight downfield. This is different than a true fake screen, where the quarterback does not have the option to throw the screen play if it is there. As with all of Dana's plays, this one was well designed, but required quick decisions from the quarterback.
2. Troy stylings. The hero of Troy's bowl win over Ohio? Will Goggans, whose beard was captured in what must simultaneously be called a photo, a statement and a power ballad by the artist known as Will Goggans. Going forward, the most intriguing player on Troy's roster is redshirt freshman quarterback Corey Robinson.
Before Robinson's senior season at Lone Oak high school in Paducah, Kentucky, his high school coaches called up Tony Franklin and installed "the System," and, well, this happened:
During his final season at Lone Oak High School in Paducah, Ky., Robinson threw for 5,872 yards and a national-record 91 touchdowns. He was intercepted just four times in 520 attempts on the way to being named his state's Mr. Football.
Robinson has a bright future, as in his freshman season (in terms of eligibility), he threw for 3,707 yards and 28 touchdowns. His journey to Troy was not straightforward, and Franklin helped him not only by installing his brand of the Airraid:
Heavy recruiting attention didn't follow for Robinson, who is now listed at 6 feet tall and 214 pounds.

He received some attention from Sun Belt Conference schools and said "Ole Miss was talking to me a little bit here and there." Troy knew about Robinson because then-offensive coordinator Tony Franklin was a good friend of Lone Oak High head coach Jack Haskins, whose son Billy Jack is a former University of Kentucky quarterback. Lone Oak ran an offense similar to Troy's and Robinson felt comfortable in choosing the Trojans.

It wasn't a quick journey to the field as a college player for Robinson. He spent the 2008 season as greyshirt and a part-time student at Troy.
Seems to be working out now.
3. Merger of equals. The excellent The Browser is merging with the excellent Five Books. The expected result will be self-defining.
4. Words Fail Them, Companies adapt to the video age.
5. The Unreal Genius of Football Manager. Paean to the immersive Football manager 101 (about the other kind of football).
6. Posnanski on Jose Conseco, or not really. From the piece:
There is a line in the story that I have thought about many times. Toward the end, Parker talked about how much he had learned from the pain and the hope and the fear of what would happen … but Gary did not use most of what Richie Parker said. Here is Gary's explanation: "And he said a lot more, but it would be improper to let him do it here, for it might mislead the reader into thinking this was a story about Richie Parker."

I have often wondered if Gary did the right thing using that line. Part of me thinks that it should have gone unsaid — that comes from the "if you have to explain a joke, it didn't work" school of thinking. But another part of me remembers the jolt of recognition that clicked in me when I read the line the first time. I don't think the story would have had quite the same power for me if he had left it out.

All of which is just my excuse to say this: Despite how it may look, the following story is not about really Jose Canseco.
7. The end of the coin toss? Maybe, says Slate.