McCaffrey's Y-Stick, Halfback Option
Stanford's Christian McCaffrey narrowly missed out on the Heisman trophy in one of the most competitive races in recent years, as McCaffrey, Clemson's Deshaun Watson and Alabama's Derrick Henry each had remarkable seasons, with Henry taking home the trophy. But McCaffrey might be the most intriguing one of the bunch as he has tremendous skills but I'm still wrapping my mind around how he projects to the NFL, as while he weighs only around 205 pounds (by contrast, Rams rookie Todd Gurley is 225 pounds), he has preternatural agility and quickness, yet has thrived in Stanford's bruising, power based system while rushing for 1,847 yards. But what makes McCaffrey truly special to me are his special skills as a receiver.
Of course, McCaffrey has the pedigree of an outstanding "space player": McCaffrey's father was Ed McCaffrey, a thirteen year NFL veteran wide receiver (who could really ball); his grandfather, Dave Sime, was "ranked one of the fastest humans of all time", won an Olympic silver medal in the 100 meter dash and at one point held the world record in the 100 meter dash; and his mother, Lisa, was a soccer player at Stanford who once (jokingly?) told Sports Illustrated, "That's why Ed and I got together — so we could breed fast white guys."
But it's not just that McCaffrey is great in the open field, a fact evidenced by his insane 3,469 all purpose yards, which broke the record set by none other than Barry Sanders. McCaffrey also has a tremendous feel for the passing game and for running routes, as evidenced by how often Stanford used him in their "HBO" or "half-back option" schemes.
Stanford has for years combined a halfback option with the Y-stick concept, going at least as far back as the Andrew Luck days. To one side Stanford runs Stick, in which an outside receiver runs vertical, either a slot receiver or a RB runs to the flat, and a third receiver runs a quick stop or turn route — the "stick" route. This concept creates a triangle stretch on the defense with a vertical stretch (with the vertical and the flat) and a horizontal stretch with the flat and the stick routes. Stanford's wrinkle is to run a half-back option to the other side, which thus also puts the middle linebacker in a bind. For the mechanics of the running back option route, Air Raid progenitor Hal Mumme has succinctly explained how they work:
There are three key reads to [the option] route: being able to recognize man or zone, proper depth when running the route, and the timing between the quarterback and the running back… On this route we want [the RB] to line up directly behind the tackle with our heels at five yards. Pushing off on our inside foot we want to release outside the tackle and head straight up field to a depth of four yards past the line of scrimmage. If the back sees zone coverage, he will hook up, turn and face the quarterback. Now when the back knows he has man-to-man coverage he must recognize the leverage of the defender. If the defender is playing the back with inside leverage he will push off his inside foot and drive to the outside, running away from the defender. If the defender is playing the back with outside leverage he will plant his outside foot and break inside the defender.
Against zone coverages, the flat, stick and option route (which has settled between the linebackers) create a horizontal stretch on the underneath zone defenders that should produce an open receiver for a steady gain. But against man-to-man coverage, the stick concept pulls defenders out of the box leaving the option route one-on-one in space — and when that's one-on-one is Christian McCaffrey versus a linebacker or safety, the defense is in trouble.
McCaffrey makes that look easy — effortless, really — but coaches from Mumme to LaVell Edwards to Bill Walsh have all talked about how many running backs don't ever develop a feel for the kind of free-flowing split decisions option routes require, and notice here too that just before the snap Southern Cal crosses their linebackers and the one initially lined up over McCaffrey blitzes while the other jumps over. McCaffrey sees all that happen in a split second and still makes USC pay. That's just a great feel for the game.
I still have a lot more Christian McCaffrey to watch — and, a true sophomore, he has to play at least one more season at Stanford due to NFL/NFLPA rules — but McCaffrey looks to me like an instant impact kind of NFL talent, particularly if his coaches know how to use him as a receiver out of the backfield.
Holgo's Last Stand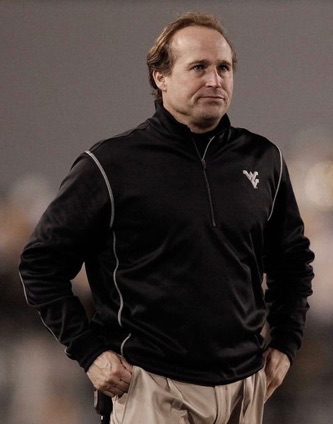 Depending on what news article you read last week, West Virginia coach Dana Holgorsen was either on the brink of being fired or his job for 2016 was never seriously in doubt, but there was enough something to cause WVU's athletic director to put out a statement that, despite being "disappointed with how our regular season ended" (a one-point loss on the road to Bill Snyder's 6-6 Kansas State team, following a four game winning streak), "Dana Holgorsen will return as our head football coach in 2016." Since going 10-3 with an Orange Bowl victory in his first season (in the old Big East), Holgorsen's WVU teams have gone 7-6, 4-8, 7-6 and 7-5 in the past four years in the Big 12.
I'll come back to the question of whether that record should earn you another year coaching West Virginia, but the fact that this was even a discussion owes much to some changes Holgorsen made to his offense this season, namely to expand his running game.
Although he has said he doesn't like the label, Holgorsen comes from the Hal Mumme/Mike Leach "Air Raid" tree which, yes, means throwing the ball a lot, but has also traditionally meant a very simple running game: Leach and Mumme really only ran draw and a played they called "base" which was like an Iso (lead) play from two-backs but became something of just "hit the guy in front of you" blocking, as neither called many run plays unless the defense had mostly abandoned the box to defend the pass. At Houston and Oklahoma State, Holgorsen was one of the first in the Air Raid tree to use zone blocking, which every modern Air Raid team outside of Leach's Washington State teams — from Texas Tech to TCU to Oklahoma State to Texas A&M to Oklahoma to Cal — uses as the foundation for their running game. Even when Holgorsen and then-Oklahoma State offensive line coach Joe Wickline invented the three-back "Diamond formation," the run plays they used from that formation used almost exclusively zone blocking.
All of which made Holgorsen's latest evolution interesting. When former WVU offensive line coach Bill Bedenbaugh left for Oklahoma, Holgorsen hired Ron Crook, a longtime line coach who had spent two seasons at Stanford coaching tackles and tight-ends, with one of the explicit reasons being he wanted to integrate power football into his Air Raid philosophy.
"One of the things that impressed me about [Holgorsen] was he said, 'I felt like our style didn't give us a chance to play to the level we needed to play to and I think there are some things we need to change,'" Crook recalls from that first meeting. "I think I was excited that here's a head coach who has had a lot of success doing things a certain way, but has recognized there's something he wants to change and he's going out and doing it."
That only manifested itself in fits and starts the last couple of seasons, but this year — and really, in the middle of this year — Holgorsen, Crook and WVU really committed to the Power/Counter run game featuring pulling guards and fullbacks kicking out defensive ends and wrapping up to linebackers, in part because the strength of the team was in its runners but also because of shortcomings in the passing game. But there's no question it fueled the Mountaineers four game win streak. And one of the fascinating thing were all the variations Holgorsen showed. (Videos courtesy of Mike Casazza.)
In addition to typical power — fullback kicks out the defensive end, backside guard wraps and pulls to linebacker — Holgorsen's team made steady use of Counter, which simply flips the assignments of the two with the backside guard kicking out the defensive end and the fullback/H-back wrapping for the linebacker.
They ran this scheme from a variety of formations, including a nifty version from splitbacks with the playside RB taking counter steps so he can follow the other RB leading the way.
West Virginia also ran this scheme from the three-back Diamond formation, with the backside guard kicking out the end man on the line of scrimmage and the two fullbacks both leading the way to the linebackers.
But maybe the most interesting stuff Holgorsen did — particularly for a so-called Air Raid disciple — was how he integrated his quarterback into the schemes. For example, Holgorsen got a lot of mileage out of running quarterback power with some simple packaged plays with receiver screens or short stick concepts to the outside, and letting his QB throw the screens or quick passes or keep it himself on the inside run.
Yet what really got me was seeing Dana Holgorsen run a Power-I mashup, with a QB power plus another lead blocker, as shown below.
None of these concepts are new — Power/Counter is the second most popular running scheme in the NFL and College Football — but I think it says something about the state of football strategy that one of the key innovators in the Air Raid lineage is integrating Power-I and even single wing football concepts into the offense.
West Virginia rode these concepts to finish second in the Big 12 in rushing with over 235 yards per game on the ground — including 299 yards per game in WVU's four game November win streak — which in turn ultimately saved Holgo's job, though the events of the last few weeks makes one wonder exactly how much longer it's been saved for. Indeed, after issuing his formal statement, WVU's AD later made these remarks about Holgorsen's contract, which expires in just two seasons, a rarity for college coaches in light of the four-year recruiting cycle.
"We haven't gotten to that point," Lyons said. "We will talk to [Holgorsen] about the current contract in the coming weeks. We're looking at it one way; he's looking at it from a different standpoint.

"There's no specific timeline for this though. Dana will be our coach in 2016. We may get it done by the end of this week or next. We may not.

"His agent has brought [renegotiating] up and I have to see what he's proposing. I'm not sure what he's looking for. Also, I have some things in mind."
That sounds… not promising? Also, I'm pretty sure the way the WVU AD is looking at it is giving Holgorsen an extension while reducing the impact of terminating Holgorsen early.
In any event, the question of whether Holgorsen should be back is really a question about what's appropriate for West Virginia as a Big 12 team. If Alabama goes 7-6, 4-8, 7-6 and 7-5, you better believe that coach is getting fired. On the other hand, Glen Mason at Minnesota had a career record of 64-57 and was fired after going 10-3, 7-5, 7-5 and 6-7 in his last four seasons; Mason's replacement, Tim Brewster, went 1-11 the next season and was fired in the middle of the 2010 season with a cumulative record of 15-30. Sometimes 7-5 isn't too bad. (For reference, legendary WVU coach Don Nehlen's average season record was approximately 7-5.)
In the Power 5 era, with the specter of continued conference realignment always looming, the pressure is on schools to not accept anything less than top tier results, and it's fair for 2016 to be a make-or-break year for Holgorsen's WVU tenure. But if 2016 is his last season, WVU better nail the hire. Just ask Minnesota.
Miscellaneous
– Wall Street Journal on Baylor's lazy routes (which I wrote about here)
– La'el Collins!
– Matt Waldman on Trevone Boykin
– Wade Phillips's defensive call sheet
– Yikes: Bill Belichick on Marv Levy (from 1995):
The relationship was strained last week when Bill Belichick of the Browns took potshots at Marv Levy of the Bills for suggesting the Browns faked injuries to slow the no-huddle offense Monday night. Levy has made the suggestion in the past about other teams, including the New York Giants when Belichick was the team's defensive coordinator.

Belichick replied: "I think that's a bunch of garbage. It's hard for me to have respect for Levy for saying that. It's demeaning." It's almost unheard of in the NFL for one coach to publicly criticize another coach's ability, but Belichick even did that.

"Here's a guy offensively who came in and tried to run the Wing-T offense in Kansas City. That was brilliant," he said. Belichick then noted how the Bills went back to the no-huddle at half-time of the Carolina game two weeks ago.

"The best thing he did was turn the offense over to Jim Kelly in the second half of the Carolina game and against us," he said. "There's a guy, Jim Kelly, who can run an offense and move an offense. Unfortunately, he (Levy) didn't call more plays against us, like he did against Carolina. I would much rather go against him than Jim Kelly."
– Ohio State's issues on offense in 2015
– Nifty: Bengals run four verticals from the Emory & Henry formation. Watch the Steelers defensive backs engage with both of Cincinnati's tackles split wide and take themselves out of the play.
Me Stuff
On an extremely brief personal note, suffice to say the season has gone rather quickly, as my non-football work has been extremely busy, we moved into a house just outside of New York City (I still commute to the City), and we just had our second child (on Thanksgiving!), another beautiful little girl. Oh, and Grantland died, which was… suboptimal. I have little to add to that subject beyond the countless words already spilled, other than to say I was fortunate to have any association whatsoever with such a talented group of people, all of whom I am indebted to in countless ways and further that I will always remain a fan of everyone there.
The Grantland development has also caused many to ask me what my plans are, who I'll be writing for, and so on. There's some meta-questions about all of this I'm still working through, but the short answer is that I asked ESPN to break my contract with them and they have now agreed to do so, and my plan (for now) is to (1) get back to writing on smartfootball.com more frequently, mostly shorter pieces or collections of thoughts as is this case with this piece, (2) write feature pieces for other publications (i.e., freelance), including for ESPN where there are a number of people I have great respect for, many of whom I consider friends, and (3) use this site as a platform for other projects and ideas, including hopefully featuring the writing of some other excellent strategy writers, though likely on a small scale. Number 3 is the least well developed idea of the three, as I already have pieces for other publications in the works, though the idea of continuing to grow the idea behind Smart Football is exciting to me.
Thank you all for the support over the years, and please don't hesitate to email me at chris [at] smartfootball.com.