Tom Brady, in the method predicted, carves up the Miami Dolphins:
How great was the 99-yard pass? And it was so simple. The Dolphins had played a lot of man-to-man coverage, primarily man-free with a single deep safety. The Patriots lined up in no-backs but with a tight-end in the game: The beauty of this is that the no-backs invited the press-man pressure but the tight-end let them protect with six blockers as opposed to five. And then the route combination? Literally the first pass that every high school installs: The hitch/seam combination. The outside receivers run five-yard hitch routes; had the Miami defensive backs played loose, Brady would have taken the quick pass to the flat. Instead they pressed and the slot receivers faded their routes to the outside and turned it into a fade route. Brady actually didn't throw away from the safety, as the free safety rotated to Welker. But the safety looked like he was trying to jump the seam, and instead Brady lofted it over his head. Great stuff. The Patriots entire gameplan was extremely simple; their other best play was four verticals off of play-action with Brady hitting those tight-ends in the seam.
– Big moves. Ty and Dan are taking the Solid Verbal to Grantland.
– Just what you were waiting for. Nike's pro combat uniforms are here. And, um, yeah: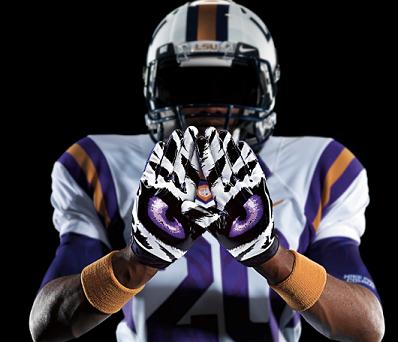 I'm just waiting for uniforms that light up on contact like those old L.A. Lights shoes.
– South Carolina is preparing for Navy's triple-option:
To get ready for Navy's triple-option rushing attack, the Gamecocks' defensive unit practice without a ball. The Midshipmen lead the nation in rushing, averaging more than 400 per game. The key to stopping an option attack is to be disciplined and not blowing assignments, Ward said. Which was why the Gamecocks' defense practiced without a ball. "It was different, but it made you concentrate on your assignments," Holloman said. "You can't follow the ball and I think it'll pay off for during the game."
All good, but remember that you can't only rely on playing assignment football against the option; they'll figure out those assignments and screw with them.
– The quest for the golden cartidge (i.e. a video game cartridge worth $5000) is a real thing:
Nintendo sold 34 million Nintendo Entertainment Systems in the United States alone and more than 200 million games. Most of those titles are worth a couple of bucks today, far less than their original $30 or $40 retail prices. But as more and more people get into the hobby and start building out their collections, prices on harder-to-find games have been skyrocketing. Mint-condition copies of early educational game Donkey Kong Jr. Math have sold for north of $500. Complete editions of The Flintstones: Surprise at Dinosaur Peak demand even more than that. These are not fun games. They're just difficult to find, especially with their original boxes and instruction manuals. Examples of these games still in their original shrink-wrap packaging routinely fetch thousands of dollars.

And then there's the Holy Grail. Every serious collector knows about it. Many dream of finding one, but few have ever seen one in person.

It's covered in shining gold — well, gold paint, actually — but to a Nintendo collector, it's more rare and valuable than any precious metal. The Nintendo World Championships cartridges contain the unique three-game, six-minute triathlon challenge the company used to find the best Nintendo players in America during the summer of 1990.
And:
There he made an unsettling discovery: 2 million points was chump change. The best players were closing in on a top score of 4 million. To do this, they were playing Super Mario Bros. in a way that nobody had thought of before. They would collect a cache of coins, then deliberately kill off Mario, then collect them again. Mihara studied them as they played, then returned home and furiously practiced the new Mario run.
– Stewart Mandel with some overtime:
AJ McCarron led Alabama to a 27-11 road win against Penn State in front of 107,846 mostly hostile spectators, and yet afterward coach Nick Saban said: "We still have a competition" at quarterback.
So do several other high-profile programs — and that's usually a bad thing. After two games, a team wants to know who its starting quarterback is going to be the rest of the season. And it'd like to know it can count on that quarterback. Some of the teams that entered the year with uncertainty are feeling considerably better today. For others, the "competition" continues.
– Good news: Minnesota coach Jerry Kill is recovering:
"As you'd anticipate, Coach Kill's feeling is that he wants to get back on the field," said Smith, who expected the coach to be released from the hospital "sooner than later," though he remained hospitalized Monday night. "So we're going to make sure [his] medication levels are appropriate, that he's feeling well enough … and to address those issues we can address now and not let this occur in the future."

That won't be easy; Kill has experienced seizures of varying severity since at least 1992, he has told reporters in the past, and has told friends that doctors believe scar tissue on the brain — perhaps a residue of his football playing career as an aggressive 165-pound linebacker — might be the root cause. "I have scar tissue that's built up on my brain," he told Topeka Capital-Journal reporter Ken Corbitt after being hospitalized for three days at Emporia State in 2000. "They described it like electricity going off in the breaker box that's causing my breaker to pop. That causes seizures."
– Sportswriters as candlemakers:
"WISCONSIN appears to be in the driver's seat en route to a win, as it leads 51-10 after the third quarter. Wisconsin added to its lead when Russell Wilson found Jacob Pedersen for an eight-yard touchdown to make the score 44-3 … . " Those words began a news brief written within 60 seconds of the end of the third quarter of the Wisconsin-U.N.L.V. football game earlier this month. They may not seem like much — but they were written by a computer.
"Whose Ball Is It?" from CoachDMP on Vimeo.