Hoke-a-mania. Michigan has hired Brady Hoke, prodigal son most recently of San Diego State. I don't know much about Hoke — seems like a solid guy and he obviously wanted the job. The rumor is he's bringing Al Borges with him to be offensive coordinator; I'm already getting lots of questions about his so-called "Gulf Coast Offense." I don't know where that name came from, but as far as I can tell he's a pro-style guy: nothing too exotic. But he's been an offensive coordinator for a long time (close to two decades), in three major conferences (the Pac-10 at Cal, the Big 10 at Indiana, and the SEC at Auburn), and when he's had first-round NFL talent (Cade McNown at UCLA and Jason Campbell, Ronnie Brown, and Cadillac Williams at Auburn in 2004) he's had elite offenses.
I think that sounds about right. Michigan's coaching search was explicitly about someone who wanted to build the program, not hiring the next offensive genius. And I can't really argue with that — the Rodriguez thing ended badly. That puts on the onus on Hoke, however, as he must recruit and build the program from the ground up; there won't be any reliance on a decided schematic advantage to win. But is that a bad thing?
Below are some clips of Borges's offense at San Diego State this year.
– Richard Sandomir takes down Brent Musburger. Ouch. I don't know if I thought it was as bad as described in the article, but I have to admit that "This is for all the Tostitos" was an unreal comment.
– Pat Dooley apologies for "dumb" tweet. This really is crazy; what made him say that about Frank Beamer?
– Chase has a great article over at the NYT; read it here:
Tom Brady, the presumptive M.V.P. winner this year, was the 199th pick in the 2000 draft. The Patriots' leading rusher, BenJarvus Green-Ellis, wasn't drafted. Neither was their leading receiver, Wes Welker. Danny Woodhead ranks just behind Green-Ellis in yards from scrimmage but he wasn't one of the 23 running backs selected in the 2008 draft. The rookie tight end Rob Gronkowski, who caught 10 touchdown passes, qualifies as a superstar by Patriots standards: he was the 42nd pick in last April's draft. Of New England's eight most productive offensive skill position players — Brady, Green-Ellis, Woodhead, Welker, Deion Branch, Gronkowski, Aaron Hernandez and Brandon Tate — only Gronkowski was a top-60 draft pick.

… The Patriots led the N.F.L. in points scored. They threw the most touchdowns passes… They ranked second in rushing touchdowns and in net yards per pass attempt…. So how does Belichick turn an offense that appears marginal on paper into a dominant unit? …Conventional wisdom would suggest that Belichick is both a master of the draft, finding gems with late-round picks, and a fantastic coach in the truest sense of the word, able to turn young men into elite players with his tireless attention to detail.

[I]t goes a step further than that. The Patriots, for the first time in the past few seasons, have regained a level of organizational clarity that few teams can match. When Scott Pioli and Belichick built the championship Patriots teams at the beginning of the decade, New England consistently added "their guys," players who fit the Patriot profile. With the drafting of Hernandez and Gronkowski, and the re-acquisition of Branch, to go along with Welker and Brady, the Patriots are back to finding players who, first and foremost, fit their system. Green-Ellis, Woodhead and Branch wouldn't succeeed on a lot of teams, but Belichick knows exactly what he wants out of every roster spot and only looks for players who possess those traits. And that's a big secret of his success.
– Top Ten Sports Business stories of 2010, by Andrew Brandt.
– Did Chip Kelly not run this year's offense in the National Championship game, and instead next year's offense? Bruce Eien thinks so, as they will have three very good backs next season. Here's Bruce's visual preview (click to enlarge):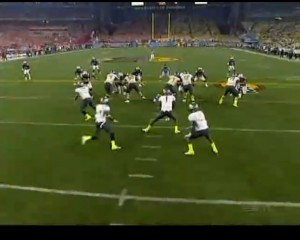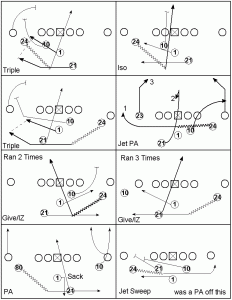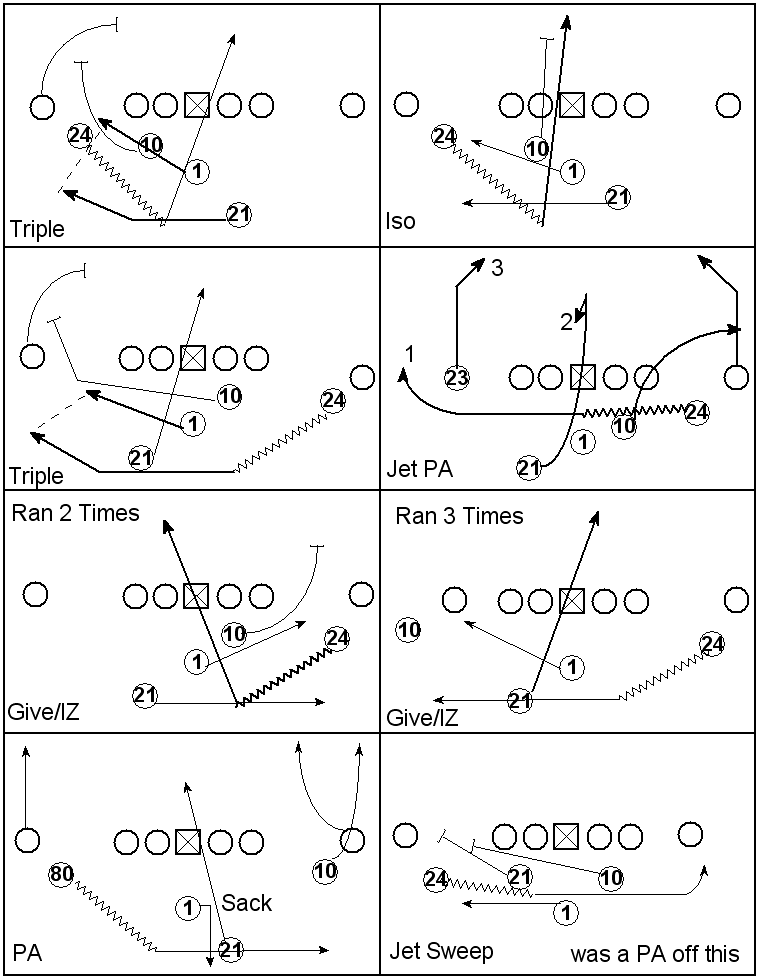 – Basketball related, but Birnbaum asks whether players steal rebounding stats from their teammates.