New Kentucky offensive coordinator (and Air Raid alumnus) Shannon Dawson mic'd up at spring practice as he installs his new offense:
– Virtual Reality for Quarterbacks?
Stanford head coach David Shaw: "It was the first time I could actually visualize something like that. 'I was like, 'Wow, if we could actually put quarterbacks in a virtual world so we're not using extra practice reps, we're not extending practice at all — we're not messing with the 20-hour work week, we're just creating a library of things for a QB to learn something, that'd help your backup QB who's never gonna get as many reps as a starter and helps your starter get three reps on a play that he screwed up on and he can just watch the same thing over and over again and see everybody and feel like he's there.' When Derek started explaining it to me, I got really excited."

Stanford quarterback Kevin Hogan: "When you're watching on film you have a birds-eye view from the sky. It's hard to see if they're leaning one way or the other. But with this, when you're going through your cadence and start to go through your dummy count, you can see the safety start to creep up a little bit. That's an indicator. When you're just watching film, you don't get the sound, you don't get that real-life feel of the game. With this, I can see what the structure is."
– Breakdown of Washington linebacker/safety prospect Shaq Thompson by Matt Bowen:
I tend to side with the scouts who see Thompson as an outside linebacker in a 4-3 scheme. And I would put him on the weak side (Will) where he can run to the ball, scrape over the top and clean up. Think of Lovie Smith's scheme in Tampa with the playmaker at the Will 'backer position. Thompson could be that guy.
I think Matt is on point with Thompson as an outside linebacker, though I like him a little bitter as a "big nickel" fifth defensive back who replaces the Sam linebacker in a 4-3 scheme; in Saban terminology he would be the "Star." Keep in mind many if not most NFL teams played more nickel than base personnel on defense.
– In game adjustments from Dan Gonzalez.
– Coach BDud on the Power Pass, or good ol' Spider 2 Y Banana:
This is a great answer as teams load the box, or crash down hard in an attempt to take away Power. This play gets better and better with the more players the defense aligns on the LOS. More guys on LOS, less guys who can cover. We even got some teams into an alignment where their end man had to take on FB as well as cover him man to man… that is like stealing, if he can stuff our FB he can't cover him, if he can cover him, we are getting easy kick outs. Either way we win.
– Waconia (Minnesota)'s jet sweep series.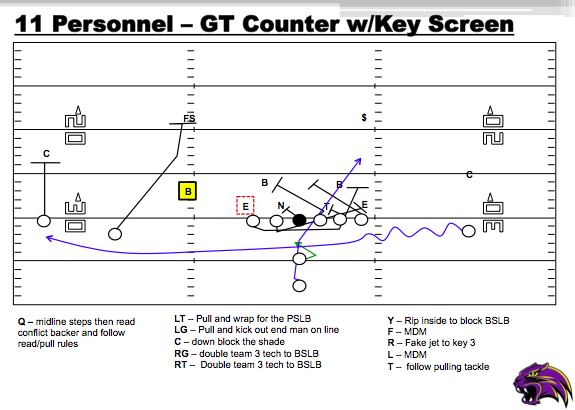 – How Kentucky's basketball program used a sports psychologist this season.