Along the Olentangy has some great previews of Arkansas in anticipation of Ohio State's bowl game. As Ross notes, Petrino's likes to gash the opposite over the top with big plays, including on the great "Mills" pass Spurrier made famous:
And when not throwing the deep ball, Petrino's favorite series is the shallow or drive series. Ross observes that Petrino mixes and matches where the dig will come from as compared with the shallow (i.e. from the same side or opposite the shallow) but that Bobby likes to send the back on a wheel route to clear the way for the shallow:
Sometimes though — as shown below against Alabama — the defense fails to cover the runner on the wheel route.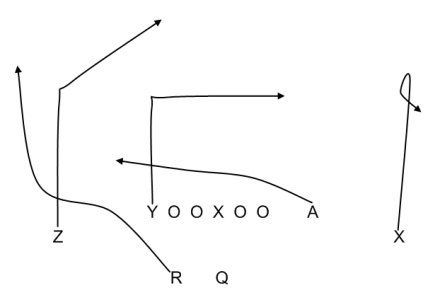 – I'll have more to say about this, but Runcodhit has some excellent stuff about Oregon's run game concepts. Specifically, it combines the outside zone play with the read of the defensive tackle or three-technique. (See also here.)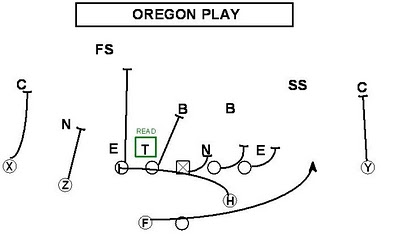 The upshot of this adjustment is it makes irrelevant the typical games defenses play to counteract "midline-esque" run plays, because if the linebacker scrapes inside to take away the quarterback he is widely out of position for the outside zone to the sideline. (For bonus material, check out this post about zone blitzes with split-safety defenses.)
– They lost, but this is still a useful video on Wisconsin's power run schemes.
– Coach Allam has a post up about tagging "mesh" with choice routes, specifically an out/fade read. I have other tags I like for the outside receiver in mesh, but this video below from Hudl (make sure to click the arrows below to cycle through the cutups) makes the post worth it.
– Brophy with some great stuff on Malzahn's run game at Auburn. More on this to come soon.
– The Press Box picks up on Dana Holgorsen's stick/draw packaged concept that I talked about recently:
– Coach Hoover with some old school 49ers footage: