Courtesy of Dan Shanoff, a diagram of four verticals autographed by Kliff Kingsbury: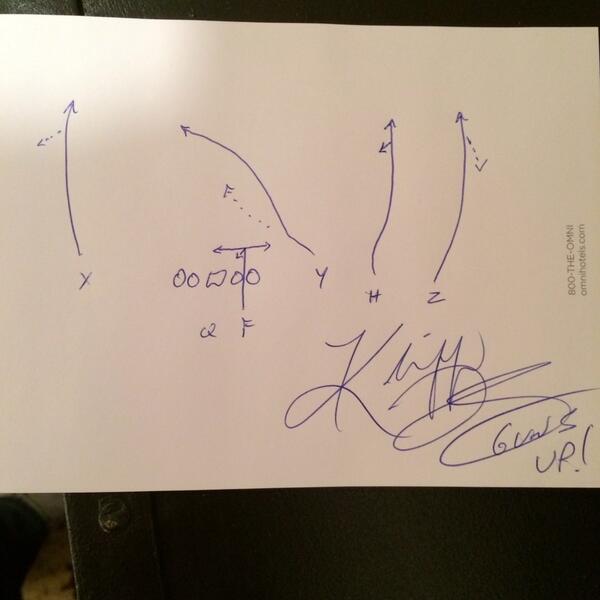 – Is man-to-man the modern defense's answer to packaged plays?
Holgorsen's offense may be revered for its stars and its successes, but it's like many others. It uses a lot of combination plays that can be a run or a pass depending on how a defense sets and reacts and how the quarterback reads it. WVU likes to run a stick-draw play where the quarterback can wait and hand the ball to a running back on a draw or wait and sell the draw and throw a simple pass to an inside receiver for easy yardage. Baylor quarterback Bryce Petty has the authority to hand the ball off on an inside zone or flick a pass to a slot receiver running a slant. Kansas State and TCU both hurt WVU when the quarterback would run outside or sell that action and then throw a pass to a receiver on the move in space created by the threat of a quarterback run.

In all those instances, the offense is at a greater advantage when a defense plays zone. The offenses try to target linebackers, nickelbacks or the hybrid linebacker/defensive back types in the area they're trying to cover. The offense's options force that defensive player to make a decision and the offense acts off of that….

"Quite a few teams use the zone read and that pop pass off the zone read," WVU cornerbacks coach and former ECU defensive coordinator Brian Mitchell said. "You don't want to put your defender in a run-pass conflict. He bites on the run and they throw a pass right behind him, or they run some kind of bubble screen off of it. When you go man, you take that out of the equation. He's either a run defender or a pass defender, and you get an extra guy in the box with man coverage."
– The University of Miami has a site up with video of most of their major drills, called UDrills.TV. Below is an example of their Pat 'N Go drill (an Air Raid staple):
–
Defending 3×1 (trips) formations
:
Some teams you may face may attempt to do ALL of these. Your job as a defensive coordinator (DC) is to eliminate the types of plays they run very little and find those top three to five runs that you are going to have to stop to make the offense play "left-handed". What doing these plays out of 3×1 does, is add one gap to the trips side and removes another from the single receiver side… Defending these gaps requires some sort of adjustment. If you are one who doesn't like to move his box players, then some sort of secondary rotation is needed (think Saban's Mable adjustment). If you are like myself, and don't want the offense dictating the coverage, then you might do more of a Poach, or Solo technique. Even better if you're a nickel guy, you can utilize a strong side X-out concept such as TCU's Special coverage. Any of these work, but somehow, someway you HAVE to adjust to get the extra defender over there to make up the extra gap.
– CoachBDud's clinic notes on UCLA offensive coordinator Noel Mazzone.
– Brophy's 2014 Coaching Resources, including the below tempo drill from Auburn's 2013 spring practice under Gus Malzahn:
– Coach John Bird's packaged play encyclopedia.
– Stephen White's analysis of Jake Matthews and Greg Robinson.