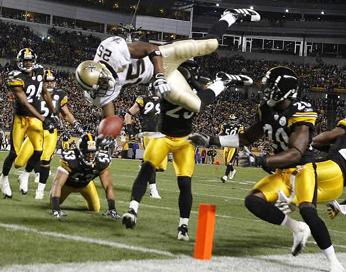 Shutdown Corner wondered aloud recently whether Reggie Bush, whose role in the New Orleans Saints offense has rapidly diminished, hasn't been relegated to just a peripheral role? Consider that Mike Bell and Pierre Thomas have carried the rushing load and that Drew Brees has a plethora of surehanded receivers. But I still like Bush as a valuable weapon — though in his newer, more limited role.
Although I think it's quite possible that the Saints left several wins on the field the last few years by not going with a more trusty back between the tackles, I don't think that devalues Bush, it just confirms what he is not: an every down back. Indeed, I look at him as basically the same as he was in high school: a wing-t wingback. That translates to the NFL as a third-down/scatback for spread sets and as a receiver, and as a slot receiver or otherwise split receiver who can motion into or out of the backfield. He is best used off misdirection as his impressive reverse and leap for a touchdown against the Dolphins showed, and as an outlet receiver. He runs fairly good option routes when covered in man-to-man by linebackers (though he gets too cute, as he does with so much else, by hopping around instead of just running a sound route), and he has averaged around ten touches a game. In his second year, by contrast, he averaged around 19 touches a game; in his first and third years he averaged closer to fifteen touches per game. I think ten is the more appropriate number. Most of the reduction has been in his rushing attempts, though his receptions has gone down too. Ultimately, I think they should continue using him as they are though maybe with a bit more motion and the like to get him favorable matchups, and this offseason he should really focus on becoming a better receiver and route runner.
The boys at the PFR Blog point out that players similar to Bush — good athletes, good receiving prowess, but little aptitude as every down, between the tackles runners — have switched to wide receiver and had success. (See also this post by Chase Stuart about Frank Gifford, Lenny Moore, Bobby Mitchell, and Charley Taylor: four of only a few players who have gone to the pro bowl as both runningbacks and wide receivers.) I agree with the sentiment if not the prescription. In modern football you don't need to switch roles so dramatically, but the name of the modern game is versatility and "hybrid" guys give you that.
Ultimately, I think Bush's future would be as (best case scenario) a cross between Marshall Faulk and an excellent slot receiver like Wes Welker or Brandon Stokely. Obviously Bush has more speed than all of those guys, but he hasn't yet developed their awareness on the field. I know this sounds like the worst of all worlds but if you did it right Reggie Bush could play almost the whole game and simply move from halfback, to third-down back, to split receiver, to wing-back, all within Sean Payton's versatile system. Now, the Saints have a lot of good players, but I'm not ready to relegate Bush to purely being an ornament. He's just a different type of player. A big factor in his development, however, is likely whether he learns to embrace that more limited role.