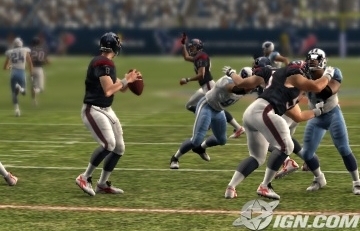 That's the headline of this piece about the newest entry to the Madden franchise, via an interview the development team did with ESPN. From the article:
Madden NFL 11 will log every play you call online, building a book on your tendencies that will available, in-game, to any multiplayer opponent. While the reports can be earned or unlocked, they can also be bought for cash. . . .

EA Sports' Madden team revealed the new scouting reports feature today in an extensive discussion with ESPN's Jon Robinson. Tendencies like your opponent's run-to-pass playcalling ratio, the side of the field it's run to, the side of the field his defense targets, will be redeemable through a coin system – one coin per scouting report – and coins may be earned for free by playing online games – and completing them. Coins can also be purchased for cash (or Microsoft Points) for those short on funds but needing intel fast. Finally, every retail copy of Madden 11 comes with access to 50 free scouting reports.

Sounds like a lot, but there are 45 separate tendency reports you can get access to, although you can buy the entire batch for 25 coins pre-game. But yes, that means you have to pay to see the book on yourself – such as the fact you always go to a slot receiver over the middle on third-down (raises hand) and everyone knows it.

There was no mention of how many coins it would take to buy a single report, nor of how much reports would cost in real-world cash or Microsoft points.
Money issues aside, that is pretty interesting. From a behavior/decision standpoint, I'm not sure how useful it will be. I would like a general view of whether a guy is a run guy or a pass guy (and maybe an inside run versus outside, and short passes versus longer), but anyone intelligent will build up tendencies (run right) and then destroy opponents who overcompensate by breaking the tendencies. As always, it's a game theory thing: I'm less interested in the scouting report than the reactions to the scouting reports.