Over at Dr Saturday, check it out in full here. I discuss Michigan's new-look D versus Charlie Weis's big-play (at least he hopes it is) pass game. Also of note if mgoblog's great anatomy of a zone-read. It's a must read.
And, after the jump, a couple of diagrams/vids that got left off the floor for the Dr Saturday bit.
First, as I mentioned in the article, I expect Robinson to base the Wolverines in the 4-3 under, with the weakside defensive end as a stand-up "hybrid" linebacker/defensive end, and to use a lot of Cover 1 robber as the base coverage.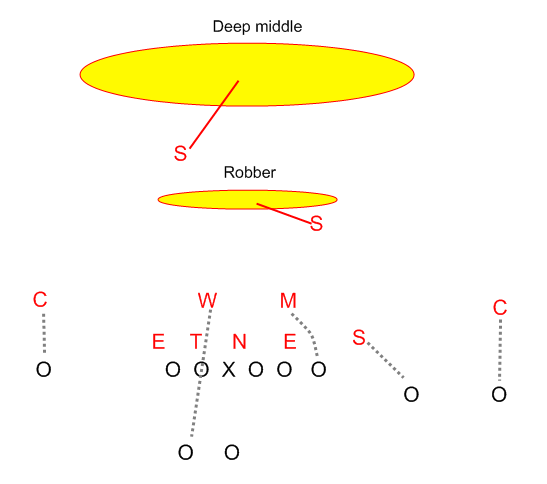 Below is a video of the Wolverines running this scheme; notice that the weak safety rotates out of the camera's view while the strong safety drops down, read to play the "robber" position.
And on the Notre Dame side, in the second clip in the video below, Weis dials up a version of the deep cross. In the play the safety jumps the crossing receiver, and thus the outside receiver, here Golden Tate, is one on one and Clausen throws a very nice ball. The diagram of the play is below, and the video below that.