If you've watched any football recently, you have no doubt seen this commercial from Bud Light, starring Carl Weathers:
In the commercial, Carl Weathers shows us his playbook, including the play "Blue 42 Trick Car Blitz":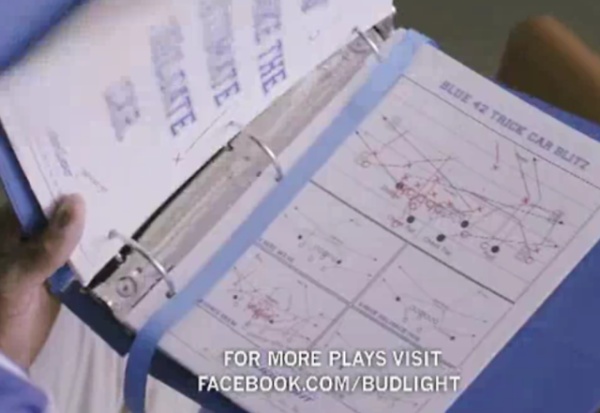 It's not easy to see, but readers of this site will recognize the play shown as "mesh," an Airraid staple. (Here's another copy of the screen cap.) But what caught me was not that I recognized the play concept, it was that I recognized the diagram. Some of this was to Bud Light's credit: typically play diagrams on TV or in media are incorrect, showing 13 players or ineligible receivers running routes or whatever else. So I was initially just shocked it didn't immediately look incorrect. But there was something further — although there was some kind of faux defense drawn on top, I knew I'd seen the diagram before.
And then I remembered where: Bruce Eien's site, or more specifically his depiction of Norm Chow's BYU offense and the 62 X Shallow play:
Compare the two images above. As I said, it looks like the Bud Light people drew some extra defense stuff on top of the play, but everything on offense is the same — the formations, the layout, the routes, and even the text ("Check flat").
Of course there's nothing wrong with this — the play doesn't belong to anyone (even Norm Chow), and I don't think Bruce will mind that his play diagram showed up in a Bud Light commercial. But obviously some guy at DDB Chicago (the advertising agency that made the commercial), did a Google Image search for play diagrams and came up with that one.