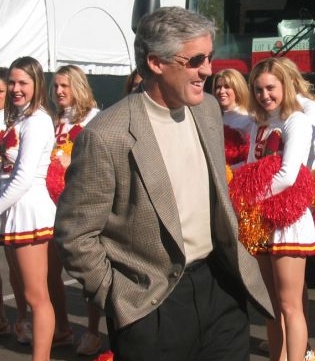 That's the title of the new profile of USC's Carroll in Esquire. Lots of interesting stuff, but here are two of the best bits. The setting for both anecdotes here is during USC's summer camp for high school kids, some being recruited by USC, others just there to be coached for a week by Carroll and co.
The [coaching] staff met in the War Room. (In a culture so steeped in tradition, everything has a fancy name.) The mood there always seems part frat house, part locker room, part battlefield HQ. There's much scathing humor and shit-giving, bro love in its highest form. Around the rectangular wood table are fourteen high-backed leather swivel chairs; each of the coaches takes the same chair every time, with Carroll at the head. Behind them, a hodgepodge of stools and folding chairs for the graduate assistants — some of them former players, some manager types who never played a down. Two walls are dominated by double whiteboards; panels slide to reveal depth charts of players and recruits; another whiteboard lists the name of every offensive play and the number of yards the play averaged last season. With desks occupying two corners and video-projection equipment in a third, the room is tight. Deep into a session you will find some of the larger guys reclining so far back they're practically in the lap of a GA.

At one minute before seven, one of the GAs walked in with two giant sacks of Egg McMuffins.

"All right!" somebody screamed. "The hockey pucks are here!"

"Pucks!"

"Go Pens!" hollered BC [Carroll's son, an assistant coach].

A feeding frenzy ensued. Large men reached and grabbed for the various bottles of hot sauce and mini containers of jelly that live permanently at the center of the table.

"It's time to get ready for some football around this muthafucka," yelled Ken Norton Jr., son of the former world-champion boxer, himself a former All-Pro linebacker. Norton had retired after thirteen seasons when he happened to meet Carroll; things just clicked. Now he's going into his fifth year with USC. Nobody gives him shit for being a UCLA alum, particularly at noontime basketball, where he's been known to let out the monster, playing Shaq to Carroll's Kobe. Since the last NFL draft, when three USC linebackers were scooped up in the first two rounds, people have begun joking that USC, once known as Tailback U, needs to be renamed. Norton's Egg McMuffin appeared tiny in his giant paw. His rocklike mandible made quick work of it. He helped himself to another.

Carroll entered from his office across the hall, McMuffin in hand. His mouth was full, he was chewing, he was wearing the silly/happy expression of a guy who's just come to work after his morning surf. "What's happenin' boys?"

"A little camp today!" hollered the defensive coordinator, Haruki Rocky Seto, "Rock" to his friends, a second-generation Japanese American named for the boxer Marciano. (His brothers are named after Sonny Jurgensen and Johnny Bench.) An undersized junior-college fullback who made the Trojans as a walk-on, Seto entered the coaching ranks as a video assistant, filming practices. When Carroll came to town for his first USC press conference nine years ago, Rocky was the kid who picked him up at the airport. Now he's in charge of Carroll's first love: defense.

"That's what I'm talkin' about!" hollered offensive-line coach Golden Pat Ruel (his actual full name). He's known Carroll since 1977, when they were both graduate assistant coaches making $172 a month at Arkansas. Like most of the veterans in the room, he'd coached in the NFL. He chose to work for Carroll for less money. "How many people do you know who enjoy driving to work every morning?" he'd testimonialized at the chalk talk.

Carroll talks a lot about his coaches "growing up in the program." He likes grooming his own people instead of bringing in established stars. He is proud of the fact that former assistant coaches, like Lane Kiffin and Steve Sarkisian, who recently departed for Pac-10 rival Washington, have gone on to head-coaching jobs themselves. "I want guys to come to the program knowing that I'll do everything in my power to get them the job of their dreams at some other place," he says.

Carroll gulped down the last of his sandwich and took his chair; the GA in charge of statistics fired up the iPod. Carroll ran the meeting briskly, a stylized form of controlled chaos. And then a few final words:

"Let's come out of our shoes today on these kids, man," he told his staff. "Let's just coach the shit out of these guys. I want lots of enthusiasm. I want you frickin' screamin' and yellin' and makin' 'em feel it. Make it memorable — but don't abuse anybody."

"Dude! You suck! Get the fuck out of here," bellowed offensive coordinator Johnny "Mo" Morton, who arrived a few years ago from the New Orleans Saints.

"Get off my field!" hollered special-teams coach Brian Schneider, a new hire, fresh from the Oakland Raiders.

"You fuckin' suck!" hollered BC, never to be outdone in loudness by anyone.

"Let's not do that," Carroll said, playing aghast, his tone recalling a guy with a secondary teaching credential, which he has, along with his master's degree in physical education. "But make sure they feel us. Get 'em fired up, hustling their ass off. And if somebody gets hurt, don't throw a fuckin' fit, hollerin' for the trainer. Do it cool and calm like we been there before, so we don't freak anybody out."

"Unless there's a fuckin' bone stickin' out," Johnny Mo offered.

"If there's a bone sticking out, you can frickin' go crazy!" Carroll hollered, standing to leave.

"Aaaaaiiiiiii," somebody cried in agony.

"Ohhhhhhhhhaaahhhh," groaned somebody else.

"Trainerrrrrrrr!"

"Go Pens!" hollered BC.
And off he went at a trot.