Lane Kiffin's run at Southern Cal ended rather inauspiciously, but there are many who still respect his mind as an offensive coach, most notably his new boss at Alabama, Nick Saban.
Not only did Kiffin learn from his father, Monte, he also spent long hours at the Tampa Bay Buccaneers' football facility studying and learning from Jon Gruden when his father coached under him in the early 2000s. At Southern Cal, Kiffin coached under Norm Chow, who brought with him a version of the old LaVell Edwards/BYU offense (via NC State), but Kiffin — as well as USC head coach Pete Carroll — wanted to update the attack with NFL concepts, specifically Gruden's.
I recently stumbled on one of Kiffin's old playbooks from when he was head coach at Southern Cal (really, a specific gameplan for their game in 2010 against UCLA). By this point Kiffin's playbook is as much his own as it is what he learned from either Chow or Gruden, but you can still see the imprint in the plays — and in other more interesting ways, as we'll see. For example, most of the running game and base passing game are all NFL and pro-style offense staples, though Kiffin had begun sprinkling in concepts he faced weekly from other teams in the Pac-12, like inside zone where the quarterback had the option to throw a bubble screen on the backside.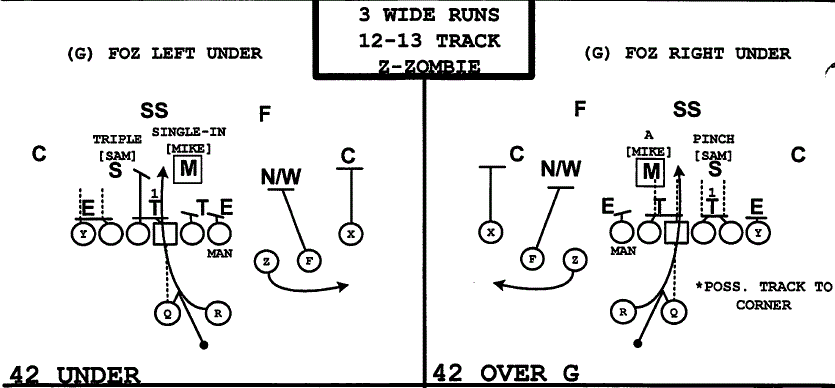 But this is all pretty standard stuff. The plays I really liked in this playbook were his goal line and short yardage passes, an area where I always thought Kiffin's teams usually had nifty answers based on whatever his opponent liked to do in those scenarios, whether it was man-to-man across the board or some kind of short zones.
In the diagram on the left, you get an adapted version of the West Coast staple "Sprint Right Option," with a middle receiver rubbing (or picking) for the receiver in the flat while the outside receiver runs to a double move, first breaking to the post before breaking back to the sideline. (You can click on all of the diagrams to make them bigger.)
In the diagram on the right, the offense gets the tailback into the flat with plenty of receivers forming a bit of a wall for him — it's really hard for an inside linebacker to get out to cover the back if the defense is in any kind of man-to-man. And if it's zone there's a good chance the cross coming from the backside will be open.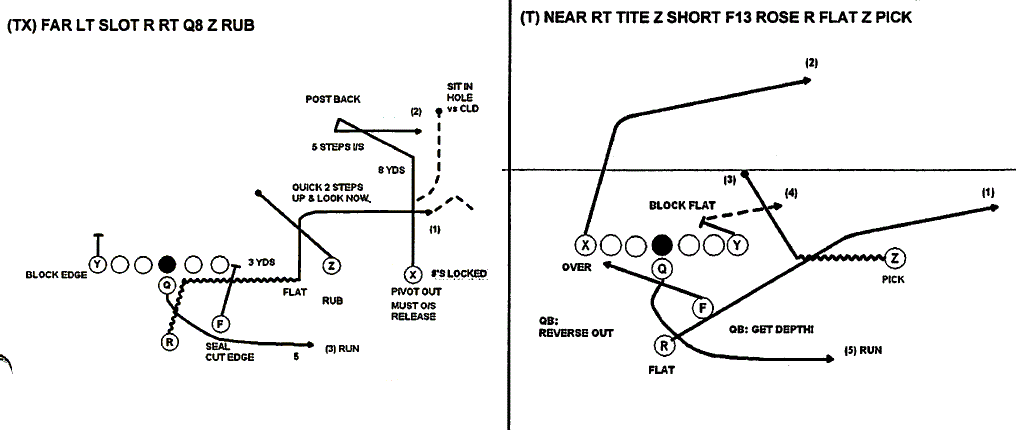 All of that is good football. Of course, it wouldn't be Lane Kiffin if it was only about Xs and Os. The first couple of pages of the gameplan include the usual scouting reports and notes coaches provide their players: brutally blunt assessments of opposing players meant to both give their own players keys to being successful as well as confidence going into the week. Terms like "runs around blocks," "soft, plays high," "limited," or the dreaded "takes plays off — don't keep him in the game" are par for the course. Nevertheless, it's interesting to see it in print.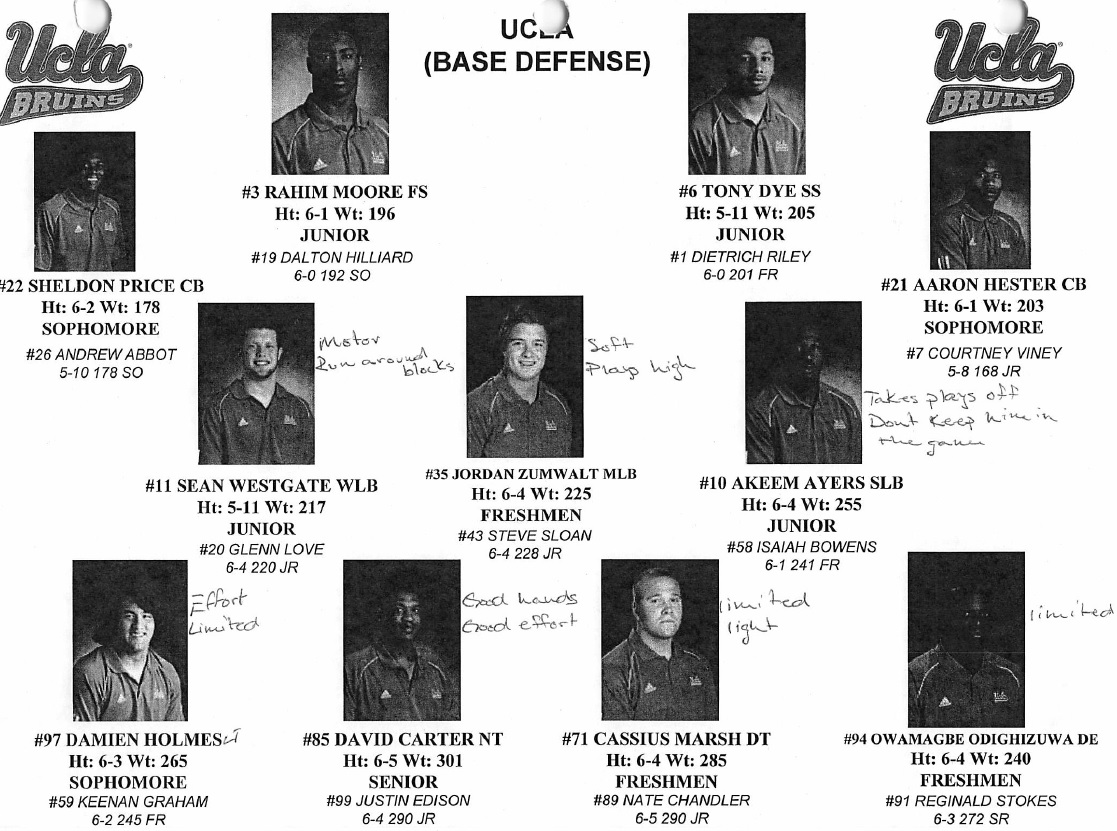 But labeling the scouting report for the secondary "fUCLA"? That's pure Lane Kiffin.