I received this great question from a reader:
We run the Airraid offense, and we've noticed that it's very easy to move the ball down the field to the 20 but then it gets really difficult as the field compresses. We can't power run because that's not what we do and it's hard to throw a lot of stuff because the field is compressed. The options shrink dramatically. Any suggestions?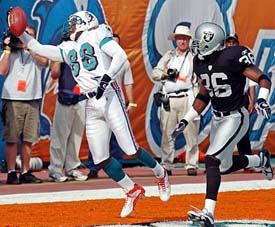 This falls into the "easier said than done" category, but at the risk of stating the obvious here are some thoughts.
First, and I think Dan Holgorsen has moved in this direction, is to take the philosophy that you need to just run the stinking ball into the end zone. Gus Malzahn (who runs a more run-oriented offense) recently said this was his goal line philosophy to a group of high school coaches. It's not exactly what you do as an Airraid (or run and shoot, or one-back spread) team but you should have some kind of package — two-back power, that three back set Holgorsen uses, maybe use an H-back, or even a wildcat type deal — as it's important to get the ball directly forward. I think a lead blocker is key in short yardage because the defense can cover your offensive linemen and thus free up their linebackers to fill. (I think a lead blocker is overrated on normal downs and distance, however, but obviously the advantages to the spread diminish as you get closer in.)
Second, you can create some kind of other little package for "scoring" plays. Georgetown College of KY used to do this. Here is an excellent article describing their methods. They were a true run and shoot team under Red Faught and the later staffs, but also developed this little short yardage special situations package where they used the Delaware Wing-T and a handful of plays off of it — some runs, a speed option, a shovel pass, bootleg, and so on. I think doing something like this is highly doable and doesn't ruin the rest of your offense. You only need a few plays. They averaged something like 70 points a game over a few seasons. Don't just say you're going to be an I-formation team and run the other team over. The Delaware Wing-T thing worked because it was so weird — unbalanced set, wingback — but also completely consistent with their philosophy with all the misdirection and set-up plays despite not being the run and shoot stuff they ran the rest of the time.
Third, you just run your offense but try to find your three or four scoring plays.
As a general matter, when throwing the ball near the goal line you have essentially two options: throw the ball to the back of the end zone where only your receiver can get it or throw it short of the end zone to an athlete who can get in. Screens are underrated near the end zone. When he had Crabtree, Leach wanted to throw him either a slant or a fade, which is great if you have Crabtree. If you don't, you have to get a bit more creative. To me, corners and posts are the best plays near the goal line — and you'll find that you can use "
mesh
" for both and control the underneath coverage too. For the run game, Leach typically went with the direct route — if they covered the fade and the slant, he just wanted to hand it off and let the back go straight ahead into the end zone. In my mind, the best red zone or goal line running play of all time is/was the
Lombardi/Packers sweep, used by Bill Walsh as well
.
Outside zone
can get you a similar look, which allows your runningback to run laterally and then burst forward into the end zone when he finds a crease. You have to find a guy with a knack for scoring.
Lastly, and most importantly, if you're a pass first team you have to overcompensate for this and practice it more. It sounds simple but Holgorsen and some of the other Airraiders build red zone offense into almost every drill. For example, when practicing seven on seven they will do that for about half the time from the fifty yard line and then spend the last ten minutes on it from the ten. The next day they will go from the fifty but move to the five. Most teams have some kind of red zone period, but that tends to be just one day or so a week. As pointed out, it's tougher to be a wide open spread team when the field is reduced, so you have to overcome that by spending extra time on it. It pays dividends.
As Bill Cronin of Georgetown said, it's more fun to score.