[Ed. Note: The following article was written by my friend Mike Kuchar, who, when not writing incredibly informative articles, is the defensive coordinator at North Brunswick Township High School in New Jersey.]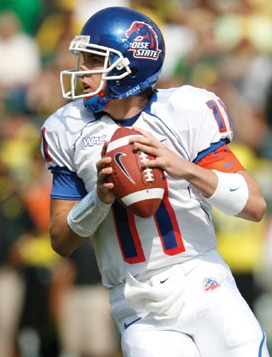 It's no secret that Boise State knows how to move the football — its 42 points per game last season led the nation — but it's exactly how Boise moves the ball that makes them unique.  I became privy to this information when I spent a week with the Virginia Tech coaching staff back in early April as they prepared for their opener against the Broncos, a September 6 bout at Fed Ex field pitting two top ten teams against each other.  Indeed, the mere fact that Va Tech's staff was breaking film down more than five months before gameday tells you something profound about how much respect Boise head coach Chris Petersen's offense commands. I sat with Virginia Tech defensive backs coach Torrian Gray and defensive graduate assistant Steve Canter (who has since become Norfolk State's QB coach) as they scouted Boise State's games against Tulsa, Nevada, Fresno State and finally TCU last season.  Canter was given the important but not-so-glamorous task of charting every snap that Boise took on offense last year.  And after just a few minutes of watching tape with them my head began to spin, but Canter couldn't spare to take his eyes off the screen.
To me, every play seemed like an entirely different scenario — a tiny but perfect little strategic masterpieces carved out by Petersen and his offensive staff for that situation alone.  While I struggled just to follow the ball (apparently the filmer in the press box had the same problem, as the camera often got faked out along with the defensive end or safety Petersen targeted) Canter diligently worked his craft, jotting each down and distance, all the personnel used, every formation, any motion and play. It's a process he's engrossed himself in as a former head coach himself: he mentored Vikings receiver Percy Harvin at nearby Landsdown High School (Virginia) and won a state championship in 2004. He's earned the respect of defensive coordinator Bud Foster, one of the best defensive minds in the game. "[Boise] tr[ies] to do a ton of different things, but there has to be a reason for what they are doing," said Canter.
Five months and a dozen scratch pads later, I'm not sure that the Hokies have Boise all figured out yet, but knowing Foster, they've certainly gotten some insight on them.  I took all the information from that visit and — mainly out of curiosity for my own purposes as a coach to see how a great offense works and how a great defense might prepare — to thoroughly study what Boise State does on the offensive side of the ball.  Once the studying was complete, I compiled a detailed and definitive report on what makes Boise, well…Boise. And more importantly, what the Hokies must do to win.
Personnel
"Maximizing personnel," one of those football buzzwords that sounds like it was invented by Peter Drucker, is nevertheless essential to making an offense dynamic — and arguably nobody in the college game knows how to do it better than Petersen.  He learned it from his days working as the offensive coordinator under previous head coach Dan Hawkins where his direction thrust little known talents RB Ian Johnson and QB Jared Zabransky onto the college football landscape in 2006. [Ed. Note: Petersen also credits former Southern Cal head coach and longtime NFL offensive coordinator Paul Hackett for his football development, along with the time he spent under Mike Bellotti at Oregon where he worked alongside Dirk Koetter and Jeff Tedford.] Boise doesn't always have the Tarzan's on film — they don't bang heads with the Oklahomas and Floridas in the recruiting wars — but they don't need to.  Petersen is schooled in the art of allocation: he wants to best utilize the talent he has.  For example, five-foot-nine senior running back James Avery, rushed for 1,151 yards last season for the Broncos.  He's not the fastest, but he's elusive with an explosive burst. "He's not the fastest guy in the world, you rarely see him get long runs" said Virginia Tech's Gray.  "But like most Boise backs he has terrific start and stop skills; he can change direction quickly and he knows how to read blocks."
Avery is a patient, zone style back who looks for creases in defensive fronts. His skills are modeled after guys like Ian Johnson who had a stellar career running the same zone type runs.  Of course, it helps when those blocks are created by an offensive line that only surrendered five sacks last season.  And that success against the pass rush must be attributed to their knowing their protection assignments when picking up various blitz packages that teams throw at them at a weekly basis. In the Fiesta Bowl last season, TCU appeared to be in dial-a-blitz mode for most of the first half but still couldn't get to Boise quarterback Kellen Moore, before largely giving up that approach as Moore never got flustered.  He knew where the weakness in his protection were and found a way to escape at the right times to avoid losses.
Moore is another anomaly: not scary on paper, frightening on film. Despite being barely six-feet tall, he has tremendous presence in the pocket.  He knows exactly where to escape when the pocket collapses and often finds receivers downfield simply because the defensive backs got tired of covering.  He's quick and decisive with the ball — he threw only three interceptions in 431 attempts last season. His career completion percentage has been in the mid 60%s, he finished seventh in Heisman voting and was the WAC offensive player of the year.  His main target, senior Austin Pettis, had 63 catches from virtually every spot on the field: flanker, slot, split end and even out of the backfield; Petersen loves moving his chess pieces around.  Referring to Pettis, Virginia Tech's Gray said: "He's their tallest guy at 6-3 and they move him around a ton," adding, "In the red zone, he's lethal."  Indeed, Pettis had 14 touchdowns last season, mainly on bootleg schemes — a Boise favorite in that part of the field.
Schemes
Boise State's linebacker coach, Jeff Choate, once told me at coaching clinic two years back, "We run plays, we don't have an offense.  It makes it difficult to defend."  At that time he was working with the running backs.  Before this project, I wondered how an offense can't be a system.  Coordinators pride themselves on establishing identities: "It's what we do" is a common mantra among the coaching profession.  Urban Meyer at Florida has his spread option, Chip Kelly at Oregon has his QB run game, Steve Sarkasian at Washington has his pro-style offense that he developed at USC. Well, apparently Boise was the Seinfeld of college football — their lack of identity is their identity.  Although I may not have understood it then, the method behind this apparent lack of cohesion became much clearer to me after hours of study.
Boise specializes in getting defenses out of position to make plays by utilizing the three major essentials in offensive football:  numbers, leverage and grass.  "Numbers" means outnumbering the defense at the point of attack — i.e. more blockers than defenders on the edge, more receivers than zone defenders, etc.  "Leverage" refers to out-flanking a defense at the point of attack — i.e. you may not have numbers but the angles are on your side.  "Grass" harkens to Willie Keeler's baseball adage, "hit 'em where they ain't."  Run the ball where there are the fewest defenders.  As it turned out, Choate was right: Boise spends more time on distracting you then developing themselves.  But don't get confused: the point is that although the Broncos have the talent to be one of the best teams in the country and could simply overrun certain opponents, their modus operandi is to be patient and to take what the defense gives them — a true reflection of Petersen, their coach.  The quintessential underdog philosophy, they wear you down by picking at four and five yard gains until they pop a big one.   Watching them on film, it's never surprising they score, but to a football junkie, the methodology of how they score is a work of art.  Basically, Boise uses three distinct ways to score: (1) pre-snap leverage by the use of formation, (2) post-snap misdirection and (3) calling the unexpected — the dagger after lulling you to sleep.
1. Pre-Snap Leverage
Boise moves before almost every snap.  In the four games I broke down there were only seven plays (out of 162) that someone didn't motion, trade or shift their alignment.  It's not surprising that of those seven plays, their net yardage was a mere twenty-four.  They are comfortable moving.  Choate calls it "a show game to the defense," meaning that there may be no distinct reasoning behind their shifting at all. [Ed. Note: I'm reminded of the old coaching saw, "Motion causes emotion."] But after studying each play that corresponds with it, its apparent there is a method.  The Broncos are naturally a 12 personnel team, which means they play with one tailback (Avery) and two monstrously large tight-ends who are monstrous — Tommy Gallarda at 6-5 and Kyle Efaw at 6-4.  Having two tight ends in the game at the same time, especially with that kind of size, provides for excellent blocking surfaces.   Even Boise's fullback, Dan Paul 6-0 and 240 lbs. will line up at the tight end spot from time to time.  One of their favorite schemes is to line up in a pro wing formation on one side of the formation (Diagram 1) and quickly shift to the opposite side of the formation (Diagram  2).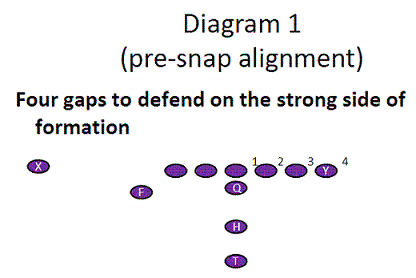 Efaw will start in the fullback spot and move to a wing alignment as Paul moves from a wing alignment to the fullback spot, his natural position.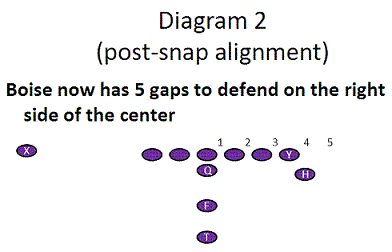 While it may seem elementary to the normal football watcher, what Petersen is doing is intricately planned.  He is overloading one side of the formation with a tight end plus wing set, thus creating an extra gap to the strong side of the formation that the defense must worry about.  With the addition of a fullback who can be moved anywhere in the front, another gap is created and has to be defended, often too quickly for the defense to adjust to adjust to it.  By the time the ball is snapped, Petersen has created a defensive dilemma, too many gaps to cover in too little time, and he is able to run his base run schemes, like the Power O (Diagram 3) by gaining a numbers advantage in the tackle box.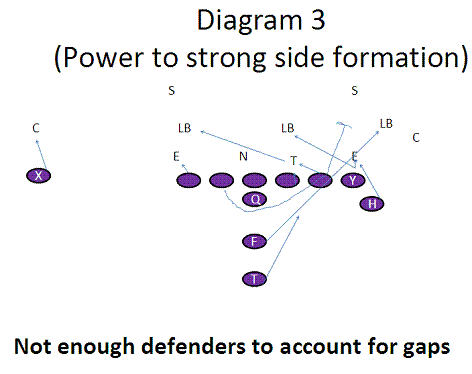 A couple plays later, as he did against Nevada last season, Petersen will line up Gallarda in a traditional I formation set with two tight-ends, and, as Moore gets under center, as shown in Diagram 6.  While most opponents may expect another strong side run scheme and rotate their coverage and bump their front to the strong side, Petersen will run his inside zone scheme and watch Avery cut it back weak where there are voided lanes in the defense (Diagram 6). [Ed Note: For space constraints there are no diagrams 4 or 5.]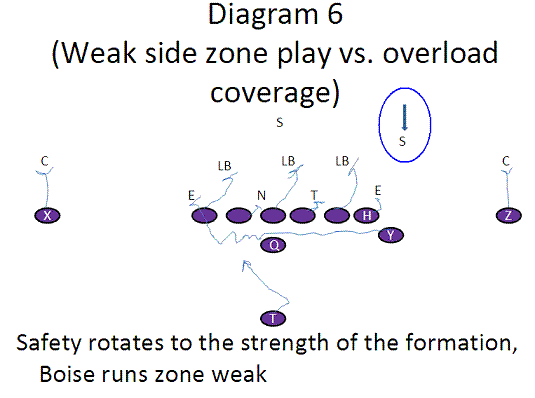 It's a scheme Boise expects because of how defenses adjust to their motion.  It's a called scheme, not a spontaneous cut by Avery.  Avery knows he's going there pre-snap.  Petersen and offensive coordinator Bryan Harsin make their adjustments from the sideline after seeing how a defense reacts to their movement.  "The way their offense is designed, there are plenty of schemes to cut the ball back," said Gray.  "When you have a back that is patient, and can change directions quickly, it works."
A cornerstone staple of the Broncos offense is to overload formations: they will line up in a traditionally 3×1 trips set (Diagram 7) which already puts a tremendous amount of horizontal stress on defenses.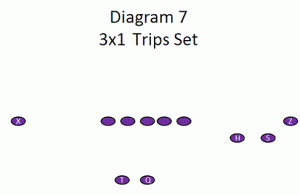 But Petersen will take it one step further, often motioning out Avery (Diagram 8 ) to get into a 4×1 formation which gives him two options.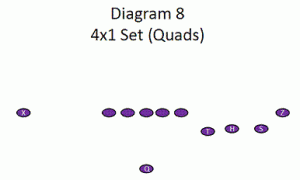 If the defense overloads the coverage by cheating one of the safeties to the four side set, Moore will often bang the slant (throw it right away) or comeback route to the split end (Diagram 9) — against Tulsa last year he hit two of them.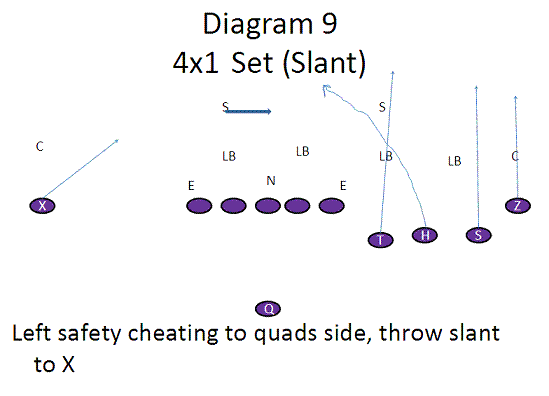 Then when teams start to stay in a two deep rotation as Nevada did three weeks later, it frees the middle of the field up for a potential seam route by one of the strong side receivers (Diagram 10).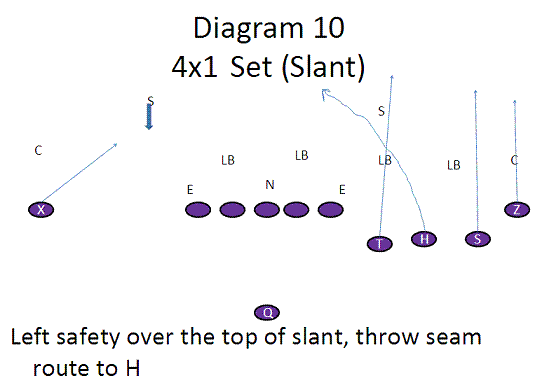 Instead of motioning to empty, Boise will also start in empty and motion Avery back into the backfield (Diagram 11).  The main idea here is for Petersen to see what defenses empty adjustment is. Most teams have only one, and usually it is man coverage.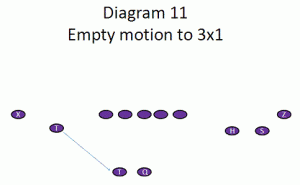 If he gets what he wants, he'll run the jailbreak screen to Avery (Diagram 12).  If everyone handles their blocking assignment, it's usually Avery in a one on one situation with the defender assigned to cover him.  It's a win/win situation.  "Jailbreak is such a scary play," said Gray.  "Once you realize it, the linemen get on you and they hit that thing in the alley and you have problems."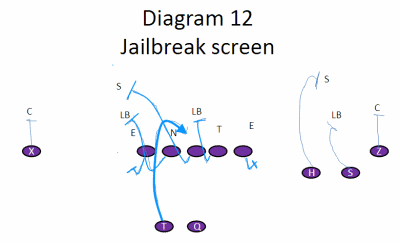 2. Post-Snap Misdirection
If all of the shifting, motioning and trading doesn't get a defense where they want it, Petersen and his staff will wait to the snap of the ball to undress them.  Like most offenses, Boise packages their plays, which means they may have two particular options on any given play.   Case in point is Boise's tight trips formation (Diagram 13) where they will overload the field with three receivers while keeping Gallarda, the tight end, away.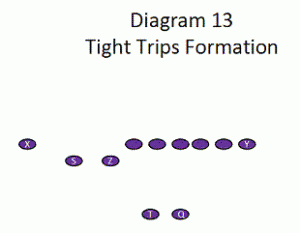 Since most defenses declare their strength to the tight side, they may have some players playing out of position on the trips side.  The "stressed" defensive player in this set is the trips side alley player, usually an outside linebacker.   If Petersen sees that that innermost receiver to the trips has a leverage advantage on him, Moore will just take the snap out of gun and throw a bubble screen to him (Diagram 14).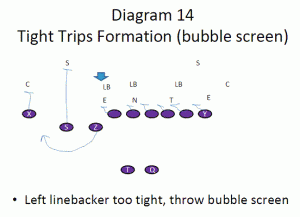 However, if that alley player starts to cheat his alignment to the trips side, it means that the offense has a number's advantage to the tight side in which case Harsin may call some sort of speed option (usually to the boundary as it did against Nevada) picking up six yards a clip (Diagram 15) while the slot still gives the illusion of a bubble screen forcing the backer outside and away from the play.  Either way, the Broncos have the advantage.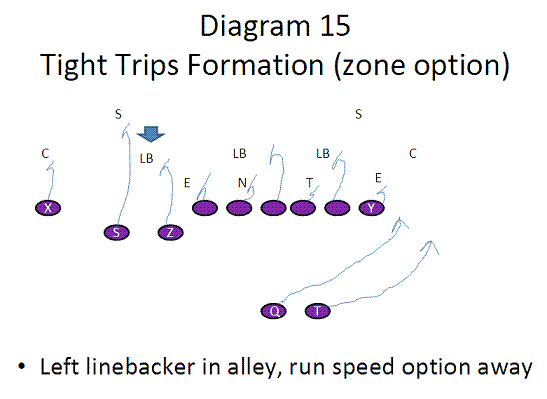 Over the four games I watched, I also a lot of unbalanced formations where the tight end and flanker were both on the line of scrimmage while the X receiver, usually junior Titus Young, off it.  They'll run some form of fast flow jet sweep to Young (Diagram 16).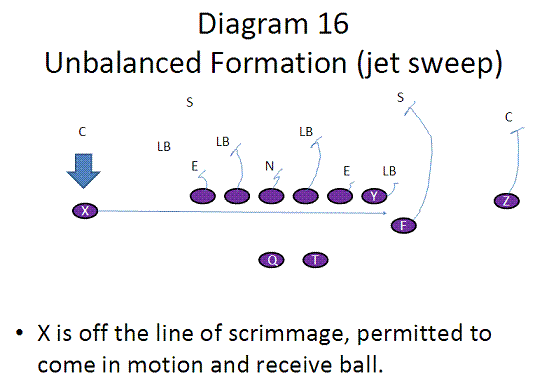 Young isn't your prototypical running back, but he doesn't need to be. Petersen just wants to set up the defense. Regardless of the yardage gained on the play, all he looks for is how the defense reacts.  Once the defense rolls its coverage to the side of the jet sweep, as TCU did in the Fiesta Bowl, Petersen will run the jet sweep pass off of that action.  Kellen Moore fakes the handoff to Young, and throws a post/wheel combination with the Z and the fullback (Diagram 17).  He hit it for 19 yards against the Horned Frogs to set up Boise's initial score.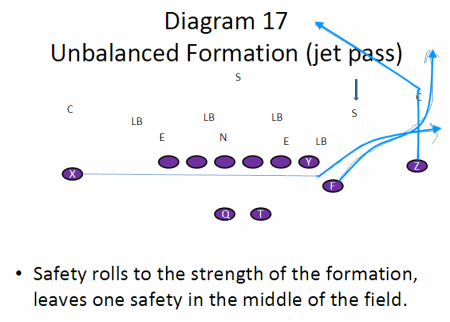 3. Bold, Calculated Risks
Sure, offensive coordinators give lip service about taking shots, but most play it close to the vest during crunch time.  Not Petersen and the Bronco staff. They'll pull the trigger with any play at any time and are willing to live with the consequences — though most have been quite positive. We all remember the stunts he pulled against Oklahoma to win the Fiesta Bowl in 2008. Yet Petersen managed to do it again against TCU when his punter Kyle Brotzman tossed a 29 yard completion on fourth down. Besides his already non-conformist approach to offense — like lining up in unbalanced sets and running to the short side of the field — Petersen takes specific risks at various stages in the games.  Their first possession of the TCU game reflected this. Insider their own twenty yard-line, where most teams don't like to take chances, Boise State threw three pass plays in a row.  The Horned Frogs were playing quarters coverage, a scheme deficient against double post routes.  So, Petersen and his staff wasted no time in trying to expose them by lining up in tight spread sets and trying to get over the top.  Because of their athleticism on defense, TCU kept up, but Boise managed to convert a few of those double posts later on in the game.
Even when facing a third and seven and beating Nevada in third quarter by six and in scoring position inside the forty yard line, Petersen easily could've tried to convert a quick slant to move the chains.  Instead, he opted for an outside zone play — into the boundary side of the field.  Petersen saw that Nevada's defense was playing a soft cover two zone anticipating the throw (who wouldn't be) and he took what they gave him.  The play only yielded six yards.  Didn't matter.  They picked up the first down on a QB sneak the very next play. It's that free-spirited, offensive creativity that makes the Boise offense amazing to watch — and so difficult to defend.  "It's truly a beautiful offense.  You watch every game in awe," said Gray.  "They throw screens, they throw underneath high percentage passes, they throw hot (right away) to outside pressure and they max protect when they need to.  Seeing what you are in defensively, you're up against the clock on defense."
How to Stop Them
Gray and the rest of the Hokies staff are done with preparations for their nationally televised game against the Broncos on September 6th. Now the game must be played. Boise has won fourteen straight games and have their best ranking in their history. Moreover, essentially the entire offense, including Kellen Moore, returns, and there is even talk of a National Title. If Virginia Tech wants to thwart that dream in week one — or to have any shot themselves (the Hokies are ranked in the top ten as well) — they will need to do some very specific things:
Pressure Moore: TCU was the only team to do all season last year.  Although they couldn't get to him, they pressured him into plenty of incompletions- his 58 percent completion percentage in the Fiesta Bowl was ten percentage points lower than his average.  Moore is lethal when he's in his comfort zone, so the Hokies need to change up their blitz packages.  Va Tech has the athletes to cover, so on third downs expect them to lock up in man situations and bring six defenders at Moore.
Come up with simple adjustments to their motion package: No matter how you slice it, Boise will come out with one of four types of formations, each based on eligible receivers:  2×2 (four wides, three wides and a tight-end, two wides and two tightends, etc), 3×1 (trips), 3×2 (no backs), and unbalanced sets.  After studying Boise's film, I noticed that only their fullbacks and tight ends shift and motion on each play, which limits the teaching (for the offense) to just focusing on those players. But it also helps the defense in their preparation. Virginia Tech must have an answer for each of those formations and rep against them continually in practice.  Petersen must continually shift and motion until he gets you in what he wants.  The Hokies must communicate their adjustments and get set before the ball is snapped.
Die Slowly: It sounds pessimistic, but is essentially what the Hokies must go by to succeed against BSU:  let Boise work for their yards; don't give up the big play; and don't get caught up in all the misdirection post-snap.  Va Tech needs to be disciplined, read their keys and not get caught up in the "show game" that Boise State presents.  Make them earn it. (And hope Tyrod Taylor has a big day!)