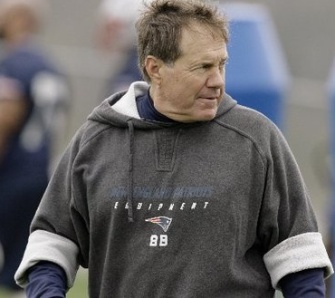 Some interesting tidbits from the post-game pressers regarding Bill Belichick. First, his defensive tactics against the Falcons and how worried he was about Falcons tight-end Anthony Gonzalez:
Q: Can you talk about the job the defense did on Tony Gonzalez? He was a big topic of conversation this week.

Belichick: Well, he's good. We devoted a lot of coverage to him. We doubled him a lot and he's a guy — game plan-wise — that you've got to account for. You've got to put some coverage on him; he's really hard to handle. Again, I thought our guys stepped up and did a good job on him. We doubled him plenty of times and he still caught the ball. He's tough, but then we held up in some other spots as well. Terrence [Wheatley], Shawn [Springs] and Leigh [Bodden] really did a good job out there. We didn't give them very much help and they stepped up to the challenge on a good group of receivers and did a competitive job. . . .

Q: Can you talk about the job Brandon McGowan did today? It looked like he was part of your coverage on Tony Gonzalez.

Belichick: Oh, he was. Brandon [McGowan], it seems like he does a good job for us every week in the kicking game and on defense. He's involved in a lot of plays, makes tackles and is a good coverage player and he did. He had a lot of responsibility on Gonzalez today. But we put a lot of coverage on Tony, too, and I'm not taking anything away from the job Brandon did, but we gave him some help. I mean Gonzalez is almost impossible to matchup with. . . .

Q: Were there changes defensively in the second half?

Belichick: No, not really. It was basically the same game plan we went into the game with. The calls matchup differently like they always do. Certainly, a big part of this game was to deal with Gonzalez, which I am not coming in here talking about him being seven [catches] for 110 [yards] with two touchdowns. . . .
And then Tom Brady had some interesting insight into Belichick's role with the offense, specifically in drawing up plays in the dirt:
Q: On the Chris Baker touchdown, a guy had you in his grasp, but you were able to get away from the defense and deliver the ball well.

Brady: Yeah it was great protection. It wasn't how we drew that play up. It was pretty much on the sideline, Coach Belichick said, 'Well, what do you think about this?' The guys that ran the play didn't run it all week in practice and they made an adjustment. Chris [Baker] has been really dependable for us since the day he got here, and he made a great catch and run. . . .

Q: You said Bill Belichick drew up the Chris Baker touchdown play on the sideline. Was he more involved in the offensive communication with you and the play calling this week?

Brady: He's always involved. He's involved in every play that's called. That one, like I said, we just kind of drew it up there on the sidelines and made it work.