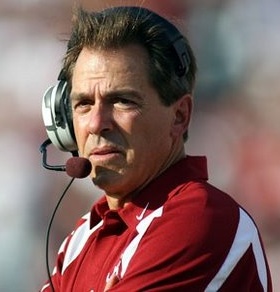 This is seriously one of the best explanations of this I have heard, from a coach or anyone else. I guess it helps that he's been doing it for thirty-years. And keep in mind, this is from his radio call-in show. Not your typical call-in.
Although Saban is known for having one of the most complex defenses schemes to play against, he has a pretty simple philosophy for how he wants defensive backs to defend opposing receivers, whether to play the ball or the man. He explained it without too much coach-speak during his radio show last Thursday:

"There were several occasions last week [against Florida International], where guys should have played the ball and they didn't. That's something [where] if you can see me on the sideline I'm always going to be yelling at them, 'Why didn't you play the ball? Why didn't you play the ball?'

"Let me explain it to you this way: There's two positions you can be in when you're defending a receiver. You're either 'in-phase' with him or you're 'out-of-phase' with him. Now, . . . 'in-phase' means that you're pretty much even with the guy [as he runs straight downfield], but if you can see the guy's number nearest [to] you, you're in-phase when you're covering him down the field. So when he gets through the move area — the move area defined being 14 to 18 yards down the field where the guy's going to break a route in or out — we play a lot of closed coverage, [i.e.] we're in bump-and-run a lot; we're in that position with the guy when he gets in the move area. Now, if you're in-phase with him when he gets into the move area, you should be become the receiver and look for the ball. That's what you should do, and then the ball has to go through you.

"If you're in the out-of phase position, which means you can't see his near number, you can't be even with him, then you have to play the guy's eyes and hands for the ball because you're not in position and if the quarterback throws it correctly [on a fade type pass] you're not going to be able to get to the ball — you're behind him too far.

"Now, to explain why some of the guys didn't play the ball last week, is [this is] what FIU is really good at: If you play bump-and-run and you have pretty good corners, and they keep the guys cut off, that means my shoulder is ahead of his shoulder going down field so I can control his speed and he can't run all over the place, [and because] I have good coverage on him, they'll throw it to what's called the back shoulder [fade]. By the time you turn around he catches it.

"The way the defensive back should read that is you read the guy's upfield shoulder and when his upfield shoulder turns back you should turn into him and play the ball into him and you'll be able to play that pattern. I think with a lot of our guys we probably over-coached that last week and did it in practice a lot. They were waiting for the guy to make the back shoulder throw when he had him cut off and they ended up not playing the ball."
So much good stuff in here, but I particularly liked this last bit about reading the receiver's "upfield" (i.e. inside) shoulder so as to defend the back shoulder fade. The idea that your man coverage DB wants to turn away from the QB and "into" the receiver when he opens up to catch the back shoulder fade is a very good coaching point.
(H/t deaux on CoachHuey.)