Sort of, though he knew how take care of the ladies: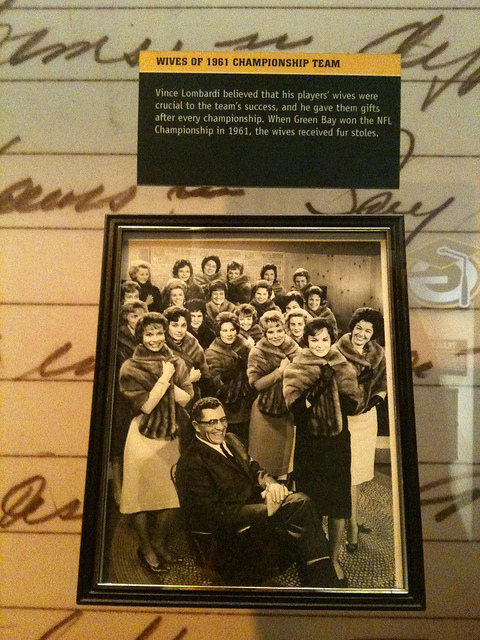 H/t CoachHuey.


– Beginner's guide to conference realignment. Below is catlab's take:
– Pass rush, thinking about the big picture.
– Jim Harbaugh on quarterbacking.
– Tom Bissell on Madden and the future of video game sports.
– Defensive line play in the 46 Nickel.
– Steve Spurrier's coach hiring criteria: No smokers and no sloppy fatties.


– Blutarsky on the realities of a playoff.
– Russell Wilson gives up his baseball career to pursue football.
– Jonah Lehrer on concussions and high school football.
– We finally have an answer: There is no such thing as "South Detroit."
– Brian Phillips on the BCS, the end of the season, and, as always, Justin Blackmon and Brandon Weeden.
– A reading list for Law and Literature. I prefer this book.
– A history of breast implants.
– Tracking the "Pizza Princple." I sincerely hope history doesn't hold in this case.
– And I thought marketing had gotten salacious here.


I need a little help from my tech-savvy readers: Someone (apparently in Russia, no joke) has created a spam/mirror site of Smart Football by adding ".net" to my hostname and copying over the site. Right now it is more of an annoyance than a problem, though I am getting streams of hits through via domain from various IP addresses around the country (at least a few per second, though the traffic is not overwhelming). Yahoo is the DNS provider and I have reported the site, and I have made complaints to Google as well. The actual web host seems impenetrable, so I've had little success reporting anything.
My concern is that the site would convert itself at some point to some kind of attack site or one that fishes for information. If you have any advice or ideas please leave them in the comments. You may also email me at chris [at] smartfootball.com but I've prefer to keep the discussion here, if possible. Any help is appreciated.


I have been mulling about a few things I would like to do to the site:
Develop iPad/iPhone/Android Mobile versions of Smart Football.
Polish up the sidebar — what would be most useful to have on it?
Clean up the header, title, etc.
Add Google Plus to the social share at bottom — any other sharing tools people wish they had?
Embed advertising in RSS feeds.
I'm also open to any other suggestions or ideas. If you or someone you know has design and/or programming capabilities feel free to reach out to me at chris [at] smartfootball.com. Much appreciated.


That's the title of this new ESPNU documentary about the new SEC Championship game, and specifically the 1992 Championship game between Alabama and Florida.
At the risk of spoiling the fun, the play call that changed the game is revealed after the jump.
(more…)


From Ross's great analysis of Ohio State's offense (and the lack thereof) at Along the Olentangy:
Every primary backfield action needs to threaten all 11 defenders. What a primary play needs is good counter plays. Every defender needs to be worried about the ball coming to his area – on a throwback screen, a reverse, a play-action pass, or whatever – as a play begins.

What makes a defender good is something to read. If he can say to himself something like, "As soon as that quarterback makes that half-assed fake, I'm going to find the tightend coming across and try to get an interception," if he can read initially and react accurately, he can play over his head. Counters, not mirrored primary plays, keep defenders from reading and jumping on plays.
The quote is of course from the great Homer Smith. Read all of Ross's analysis here.


Very interesting piece from the New Yorker:
What we think of as coaching was, sports historians say, a distinctly American development. During the nineteenth century, Britain had the more avid sporting culture; its leisure classes went in for games like cricket, golf, and soccer. But the aristocratic origins produced an ethos of amateurism: you didn't want to seem to be trying too hard. For the Brits, coaching, even practicing, was, well, unsporting. In America, a more competitive and entrepreneurial spirit took hold. In 1875, Harvard and Yale played one of the nation's first American-rules football games. Yale soon employed a head coach for the team, the legendary Walter Camp. He established position coaches for individual player development, maintained detailed performance records for each player, and pre-planned every game. Harvard preferred the British approach to sports. In those first three decades, it beat Yale only four times.

The concept of a coach is slippery. Coaches are not teachers, but they teach. They're not your boss—in professional tennis, golf, and skating, the athlete hires and fires the coach—but they can be bossy. They don't even have to be good at the sport. The famous Olympic gymnastics coach Bela Karolyi couldn't do a split if his life depended on it. Mainly, they observe, they judge, and they guide. . . .


Bruce Feldman goes behind-the-scenes for West Virginia's preparation for LSU:
The staff is waist deep in LSU film. Most of the WVU coaches will go home soon after the team meal. Meanwhile, Holgorsen settles into what staffers affectionately call "The Lounge" to resume studying the Tigers. The 10-by-20 room next to the head coach's office, which used to be where former WVU coach Bill Stewart would smoke his cigars, has been remodeled and now has two theater-style seats, a few bar stools, an antique metal Coke cart, a Red Bull cooler and a 50-inch flat screen with an Xbox. Holgorsen likes the feel of the room for whenever he wants to have a one-on-one with a player. It's also an ideal spot for the coach and Spavital to get another look at a ferocious defense.

The scouting tape, broken down by situations, isn't supposed to seem like "a highlight tape," but in LSU's case, it does. On one clip, backup defensive end Barkevious Mingo roars down the line of scrimmage to level an Oregon running back. Holgorsen rewinds the clip twice to double check where Mingo began the play from and exactly how he was able to get to the ball carrier so fast. "This is why you run the outside zone," he says, "because that guy right there [the defensive end] is not supposed to be able to do that. And that's friggin' LaMichael James too."
Read the whole thing.


And the Valley Shook has a Q&A with me about WVU/LSU, along with its own preview. It's of course similar in spirit to what I wrote for Grantland.
– The 46 nickel and nickel tracer.
– Tijuana sports hall of fame.