When it comes to football as stimulating entertainment, not all teams are created equal. This is part of my pre-season series on Teams to Watch, which literally means to "watch their game," not necessarily to "watch out for" (though it can mean that too)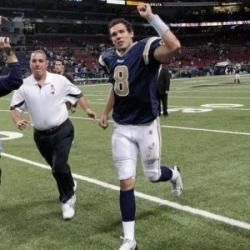 The St. Louis Rams, who went 7-9 in 2010, were not a great team last season and are unlikely to be a great one this year. But there is reason for optimism. First, Steve Spagnuolo, the Rams' second-year head coach, has been reshaping the defense in his image, and appears to be the steady hand on the wheel the team lacked under Scott Linehan. Second, the offensive line should improve and the backfield looks better and deeper than it is has been since Marshall Faulk manned it alone in his heyday: The great Steven Jackson returns, this time with some assistance from new additions Cadillac Williams and the quick Jerious Norwood. And, of course, Sam Bradford had a magnificent rookie season, where he undoubtedly showed that he is a future NFL great. Or did he? As Chase explains:
Sam Bradford's rookie season has been incredibly overrated by nearly every football writer and talking head. . . The problem when it comes to evaluationg Bradford is that too many people are paying too much attention to the wrong stats. Bradford's 2010 performance wasn't very good, even for a rookie. Over the past 20 seasons, there have been 37 quarterbacks to throw at least 224 passes in their rookie season. According to the Net Yards per Attempt Index, which grades each quarterback by his average net yards per pass attempt adjusted for era, Bradford ranks just 22nd out of 37 quarterbacks. That puts him just behind Tony Banks and Trent Edwards, and right ahead of Joey Harrington and Matt Stafford. Bradford ranked 31st in NY/A last season, only topping Carolina's Jimmy Clausen; he ranked just 29th in Adjusted Net Yards per Attempt. Does that scream superstar to you?
I am a bit more hopeful, and that is why I'll be catching Rams games this fall. Specifically, although I agree that Bradford's rookie season should not be exalted as one of the all-time greats, I am willing to go beyond the stats in this case and apply some of that good ol' fashioned "Who are you going to believe, me or your lying eyes?" type of analysis. And what I saw was a smart young quarterback on a bad-to-mediocre team with a horrendous supporting cast, who managed to get himself through a lot of ballgames by taking the conservative option, dumping it off, and picking spots to throw downfield. I saw a quarterback who didn't fall on his face, but, along with developing those downfield weapons, will have to learn to push the ball downfield. Most telling in this regard was St. Louis's most important game, against Seattle late in the season. Had the Rams won that game, they would have been in the playoffs, but Bradford struggled against Pete Carroll's blitz schemes, managing only roughly four yards per pass attempt and an interception. But I saw a guy who, with another year of maturity and a better supporting cast, could develop into a good NFL starter (with the added benefit of a generally weak division).
Moreover, the statistics are not all bad. Bradford's 5.4 Adjusted Yards Per Pass Attempt (Pro Football Reference's vaunted quarterback stat), although not great, was better than the rookie number for another highly touted rookie: Peyton Manning only had a 5.2 AY/A in 1998, his rookie season. My point is not that Bradford was 0.2 better than Manning, but instead simply that with young quarterbacks it's a guessing game. Remember too that Bradford was coming off a college season where he barely registered any snaps due to injuries, and logic indicates that he's at least on the right direction.
But the point is well taken: Bradford will not be Tom Brady this season, and his progress will be as dependent on his supporting cast as it will be on himself. Most specifically, Bradford needs his receiving corps to step up and improve. The only sure thing returning is former undrafted received Danny Amendola, referred to as a Welker clone for many reasons, some more obvious than others, but not least of all because they both were slot receivers at Texas Tech under Mike Leach. Amendola will roam the undercoverage, but from there it's anyone's guess: rookies Austin Pettis and Greg Salas look promising but are unknowns, Donnie Avery returns from injury, veterans Mike Sims-Walker, Danario Alexander, and Brandon Gibson have done some good things; no one really knows. Yet it's not necessary in modern football to have two great gamebreakers outside, like Lynn Swann and John Stallworth, to have an effective passing attack. And no one knows this better than new Rams offensive coordinator Josh McDaniels.