Actual Xs and Os. California Golden Blogs does an interview with Art of Trojan Football Analysis. Well worth the read.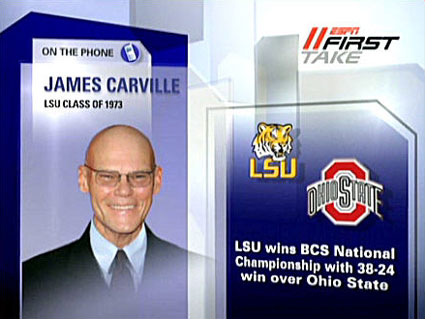 – James Carville was born that way: Via Blutarsky:
James Carville (a huge LSU fan), in response to Tony Barnhart's question "how did you become a college football fan?", had this to say last night:

How did I become a college football fan?  How did I become a heterosexual?
– Food for thought. Although cleared to play, Bob Stoops is keeping Sam Bradford out against Miami for safety reasons. Meanwhile, Urban Meyer says that Tebow is "ahead of schedule."
– Synecdoche, Kraghtorpe. It's been a hard run at Louisville for Steve Kragthorpe, particularly as he has tried to replicate the success of Bobby Petrino before him. Tonight, he faces a must-win against Dave Wennstadt's Pitt Panthers, and if he doesn't win the calls for his head will be louder than ever. Yet while BCS school coaches get paid to deal with that kind of scrutiny, you have to feel a bit bad for his son Brad, a junior quarterback at perennial Louisville, KY power, Trinity High School. Aside from the scrutiny of being Steve Kragthorpe's son, Brad has battled turf toe all season, and even got yanked this season when Trinity was crushed by Ohio power Cincinnati St. Xavier, 43-13. His head coach, the excellent Bob Beatty, said of pulling Brad Kragthorpe, "It's called turning the football over. You can't do it." He had fumbled and thrown an interception.
And it seems that living up to the expectations of a Petrino is becoming part of the Kragthorpe experience. Adding to the pressure on Brad Kragthorpe is that he not only must follow in the shoes of Brian Brohm, who won a couple of state titles as quarterback for Trinity, but also those of Nick Petrino — Bobby Petrino's son — who successfully quarterbacked the team to at least one state title, though I don't have all the numbers in front of me. And tonight, while his dad fights for his career against Pitt, the younger Kragthorpe will start in one of the most attended high school games in the country, against Louisville St. Xavier, in a game expected to draw over 35,000 attendees (for a high school game!). Louisville St. Xavier is favored to win.
– Speaking of Kragthorpe, one of his former players, Mario Urrutia, who flourished under Petrino but flopped later is back in the news, having been activated in Tampa Bay.
– This is ridiculous but overall kinda great. From BHGP.