Tom Brady, in the method predicted, carves up the Miami Dolphins:
How great was the 99-yard pass? And it was so simple. The Dolphins had played a lot of man-to-man coverage, primarily man-free with a single deep safety. The Patriots lined up in no-backs but with a tight-end in the game: The beauty of this is that the no-backs invited the press-man pressure but the tight-end let them protect with six blockers as opposed to five. And then the route combination? Literally the first pass that every high school installs: The hitch/seam combination. The outside receivers run five-yard hitch routes; had the Miami defensive backs played loose, Brady would have taken the quick pass to the flat. Instead they pressed and the slot receivers faded their routes to the outside and turned it into a fade route. Brady actually didn't throw away from the safety, as the free safety rotated to Welker. But the safety looked like he was trying to jump the seam, and instead Brady lofted it over his head. Great stuff. The Patriots entire gameplan was extremely simple; their other best play was four verticals off of play-action with Brady hitting those tight-ends in the seam.
– Big moves. Ty and Dan are taking the Solid Verbal to Grantland.
– Just what you were waiting for. Nike's pro combat uniforms are here. And, um, yeah: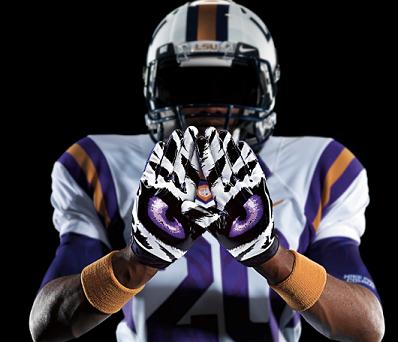 I'm just waiting for uniforms that light up on contact like those old L.A. Lights shoes.
– South Carolina is preparing for Navy's triple-option:
To get ready for Navy's triple-option rushing attack, the Gamecocks' defensive unit practice without a ball. The Midshipmen lead the nation in rushing, averaging more than 400 per game. The key to stopping an option attack is to be disciplined and not blowing assignments, Ward said. Which was why the Gamecocks' defense practiced without a ball. "It was different, but it made you concentrate on your assignments," Holloman said. "You can't follow the ball and I think it'll pay off for during the game."
All good, but remember that you can't only rely on playing assignment football against the option; they'll figure out those assignments and screw with them.
– The quest for the golden cartidge (i.e. a video game cartridge worth $5000) is a real thing: