Why have NFL passing yards gone up so much this season?
– Bill Belichick breaks down plays from the Patriots' win over the Jets.
– Calvin McGee on the spread offense.
– Buck and strong safety fire zone, against both the run and the pass.
– Peyton Manning, dealing with his injury.
– Bruce Feldman joins Ty and Dan on the Solid Verbal.


I will have more to say on the passing of Al Davis, but, for now, it's enough to say that it's unclear whether there was any more influential figure in the history of professional football, or ever will be. Al had his enemies and his grudges and there are many incidents that don't always reflect so well on him, but those won't be what I remember. I will remember the owner who was a coach, who learned from Sid Gilman, taught Bill Walsh, and hand picked and groomed John Madden (who was an obscure college assistant coach under Don Coryell — Al knew what he was doing). I will remember the man who was commissioner of the AFL and was never afraid to fight the system from within. And most of all I will remember the man whose teams, for the better part of four decades, lived up to not only his famous adage "Just win, baby!" but also to his more serious motto: "Commitment to Excellence."
So blows the autumn wind.


My new piece is up over at Grantland. Check it out.
Scan the list of the NFL's total yardage leaders and you'll see their names. Most of them have the title running back — Matt Forte, LeSean McCoy, Jahvid Best, and Ray Rice, to name a few — but there is no one prototype for these players. Indeed, in the same group you'll also see receivers, most notably Wes Welker of the Patriots, a "slot receiver" who is the undisputed master of the underneath route and the receiver screen (although this year he's been doing all that and more). An older example is former Pro Bowler Eric Metcalf, who made the rare switch from running back (where he ran for more than 600 yards in two different seasons with the Cleveland Browns) to wide receiver (where he had more than 1,000 yards in 1995 while playing in the Falcons' run-and-shoot offense), all while returning kicks and punts. But without a doubt, today's top space player is the New Orleans Saints' runner/receiver/kick returner/human Molotov cocktail Darren Sproles. Sproles is straight-ahead fast, but he is a great space player because of his other attributes: quickness, lateral agility, a second gear to blow by defenders, and a low center of gravity. Sproles returns kicks for the Saints but, then again, every time he touches the ball it's like a kick return — he's in space, and one missed open-field tackle against him might mean a touchdown.
Read the whole thing.


– The tire juke drill for runningbacks.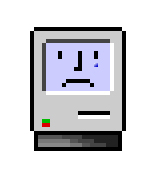 - Texas defensive coordinator Manny Diaz has no qualms about taking risks.
– History of the Erhardt-Perkins offense.
– Re-conceptualizing the strong safety in the 46.
– Celtics great Bill Russell joins the lawsuit against the NCAA regarding the use of former players' likenesses.
– Civil Rights leader Fred Shuttlesworth has passed away.
– Seth Davis, an intelligent guy, fails economics.
– Closing the book on Bryce Brown.
– A mixed bag, but a couple of these deleted scenes really are great.


It's up over at Grantland:
The game-winning play is one of the oldest plays in football, and is used at every level, from high school to the NFL: the "Power" or "Power O" play. It's called "power" because the goal for the offense is to get extra blockers to the point of attack, i.e. where the ball is going, to simply outnumber the defense. (It also sounds tough, and coaches like that.) There's more strategy on why teams like to go to the power play on a given down and distance as opposed to a zone run (as we saw this season with Darren McFadden), but there's no question it was the better look against the Colts on Blount's 35-yard touchdown run.
Read the whole thing.


It's up over at the Grantland Triangle:
The key play for McFadden and the Raiders was his 70-yard touchdown run in the second quarter, which came on the Raiders' base run play: the inside zone. The theory behind "zone running" is that, given all the multitude of shifts and maneuvers a defense can present — and the many formations offenses use nowadays — you need clear rules to run the ball effectively. The zone allows the offensive line to work together, double-teaming the defensive linemen before sliding off to block the linebackers (the "second level defenders"), while the running back has freedom to find the open crease. Against the Jets on this play, McFadden attacked the interior of New York's defense before bouncing it around end for the big gainer.
Read the whole thing.


LSU 47, WVU 21. The ultimate conclusion for this game was that, to paraphrase Dennis Green, both teams were who I thought thought they were: LSU is one of the best, toughest, most physical teams in the country, and my undisputed #1; and WVU is intriguing but extremely young on both offense and defense, a team that I have high expectations for but one that needs to grow up to have true success. I did think how they got there was extremely interesting, however. West Virginia outgained LSU by close to 200 yards, and, purely from a production standpoint, the vaunted LSU defense has to be extremely disappointed in itself and West Virginia has to know there's not a team in the country they can't light up. The biggest bright spot for WVU — and biggest surprise — was the fantastic pass protection Geno Smith received throughout the evening.
But in a strange way if I was an LSU fan I'd be encouraged: Here was a game where my defense, the strength of my team, got eaten up for a gajillion yards, but I still won for three reasons: (1) LSU's defense still grabbed four crucial turnovers; (2) LSU's special teams dominated, particularly in the field position battle (the punter was amazing) and the timely kickoff return by Mo Claiborne; and (3) the offense made very few mistakes and was extremely efficient, hitting some big passes in the first half and grinding out the run game in the second. That's the mark of a great team like LSU: they took an opponent's best shot and were able to control and win a game with the other phases of their team. LSU will win a lot of games if they can keep up things like this:
Sometimes, it's less obvious — such as, for example, the fact that LSU's average starting field position tonight was its own 43-yard line, while West Virginia didn't start a single possession past its own 29, and only then following the opening kickoff of the game. (For the night, WVU started eleven possessions inside its own 20-yard line; LSU started zero possessions inside its 20.)
For WVU it's a little more disappointing because there were opportunities, especially considering that they pulled it to 27-21 despite having dug themselves an enormous first half-hole. But the good news for the Mouintaineers is that what did them in last night — against what is in my view the best team in the country — were all fixable mistakes. Indeed, both of Geno Smith's interceptions were not of the "bad read" variety, with the first being a ricochet off of a dropped pass and the second a bad decision to throw a quick lateral screen despite the presence of Tyrann Mathieu (after the game Holgorsen said Smith had the option to hand the ball off if he didn't like the look of the screen). And while West Virginia's special teams must improve, one reason that very talented teams have great special teams is because their rosters are deep. There isn't anyone in the Big East that will present those kinds of challenges.
Ultimately, both teams have a lot of upside: For WVU, it's to potentially run the table in the Big East and make a BCS game, while for LSU, it's to solidify its spot as the best team in the country and to win Miles's second National Championship. LSU has a big game coming up with Florida, but I can't help look forward to November 5th, when the Tigers travel to Tuscaloosa to play Alabama. That game might have more BCS title implications than any other this season, including the bowl games.
– Alabama 38, Arkansas 14. I love Bobby Petrino's offense, and it's typically one of the best, most well orchestrated attacks in the country, but Nick Saban always seems to shut it down. Alabama had an insurmountable 31-7 lead in the 3rd quarter, and whatever else Arkansas tried to do was too little, too late. Indeed, it's fascinating to contrast Alabama with LSU: 'Bama may actually have the better defense, though it's close, but I actually like LSU's offense a lot better. But LSU doesn't have Trent Richardson, who kind mask a lot of weaknesses at quarterback, and Saban football teams continue to make a living capitalizing on your mistakes and not making any of their own. As I said above, I know there are other teams in the way, but I can't wait for LSU/Alabama. As we used to say back home, son you better tie your shoelaces tight and buckle your chinstraps because there's gonna be some hitting in that one.
– Oklahoma State 30, Texas A&M 29.
(more…)


With the news that Pittsburgh and Syracuse have applied to join the ACC, the conference realignment discussions have taken on a whole new character, namely, the potential destruction of the Big East. I personally don't enjoy talking about conference realignment, and I think most players and coaches don't care — just tell them who they're playing.
But there are some elements more interesting than others, and there is significance for many when it comes to how their team will fare as the old order is unsettled or simply what rivalries will be retained or destroyed. Here's a non-scientific list of things I do not find interesting in these discussions and things that are interesting.
Not interesting:
 The daily grind of the news cycle. One team applies, another team threatens to leave a conference, another threatens to leave and then says they don't want to leave, and so on. Given the tectonic shifts in the distribution and amount of football revenues with TV contracts and their attendant revenues, exclusive TV networks (like the Big 10 Network and the Longhorn Network), conferences with equal revenue sharing or proportional revenue models, conference championship games and so on, all this is going to take years to sort out. I think it's safe to say that in two years, we're still going to be talking about realignment. We may even be seriously discussing it in five years. This is a very significant time, but the interesting parts won't be apparent As The World Turns on a daily basis.


Tom Brady, in the method predicted, carves up the Miami Dolphins:
How great was the 99-yard pass? And it was so simple. The Dolphins had played a lot of man-to-man coverage, primarily man-free with a single deep safety. The Patriots lined up in no-backs but with a tight-end in the game: The beauty of this is that the no-backs invited the press-man pressure but the tight-end let them protect with six blockers as opposed to five. And then the route combination? Literally the first pass that every high school installs: The hitch/seam combination. The outside receivers run five-yard hitch routes; had the Miami defensive backs played loose, Brady would have taken the quick pass to the flat. Instead they pressed and the slot receivers faded their routes to the outside and turned it into a fade route. Brady actually didn't throw away from the safety, as the free safety rotated to Welker. But the safety looked like he was trying to jump the seam, and instead Brady lofted it over his head. Great stuff. The Patriots entire gameplan was extremely simple; their other best play was four verticals off of play-action with Brady hitting those tight-ends in the seam.
– Big moves. Ty and Dan are taking the Solid Verbal to Grantland.
– Just what you were waiting for. Nike's pro combat uniforms are here. And, um, yeah: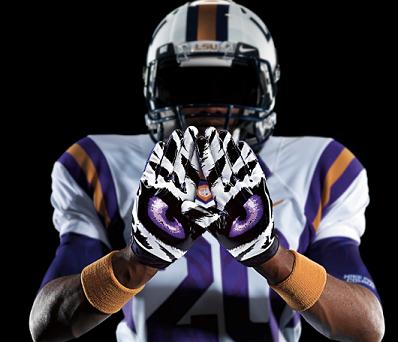 I'm just waiting for uniforms that light up on contact like those old L.A. Lights shoes.
– South Carolina is preparing for Navy's triple-option:
To get ready for Navy's triple-option rushing attack, the Gamecocks' defensive unit practice without a ball. The Midshipmen lead the nation in rushing, averaging more than 400 per game. The key to stopping an option attack is to be disciplined and not blowing assignments, Ward said. Which was why the Gamecocks' defense practiced without a ball. "It was different, but it made you concentrate on your assignments," Holloman said. "You can't follow the ball and I think it'll pay off for during the game."
All good, but remember that you can't only rely on playing assignment football against the option; they'll figure out those assignments and screw with them.
– The quest for the golden cartidge (i.e. a video game cartridge worth $5000) is a real thing: