Always good stuff here:


Doesn't get any better than this:
Below is a round-up of some pieces I've done relevant to the Super Bowl, as I've written about both the San Francisco 49ers and Baltimore Ravens over the past couple of years:
Jim Harbaugh on coaching quarterbacks:
My final link is not about the Ravens or 49ers directly, as it covers some of the tactics Stanford used to defend Oregon this past season, but it contained some good wisdom from former Iowa defensive coordinator Norm Parker that I think applies to the challenge Baltimore has in facing San Francisco's multiple attack:


I've added new products and designs to the Smart Football shop — make sure to check them all out.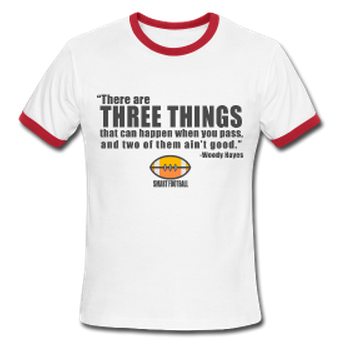 As always, let me know if you have any feedback as well. I hope everyone enjoys these.


Former Nevada coach and Pistol Offense auteur Chris Ault has been on a bit of a media blitz recently; check out interesting interviews he's done with the New York Times and the NFL Network. And in his interview with Mercury-News' Jerry McDonald, Ault highlighted the fact that it's myopic to think of this stuff as just the read and specifically the quarterback keep. Instead, what makes it all work — and potentially viable for the future in the NFL — is it's just one piece of the puzzle but it actually bolsters the rest of what you do.
Q: Seems like common sense to take advantage of the athletic skills these quarterbacks have . . .

Ault: Absolutely. I'm not here to tell you that the 49ers should run the read 16, 17 times a game. You can't do that in the NFL. But I think by running the read play, it's in your offensive system and you're going to run it five times, nine times a game, it's one more thing you've got to defend. And then when you throw the play-action pass off it, that's another thing. So it's not just one dimension that you've got to look at, it's a couple of things. You see Kaep run that 56-yard touchdown, and you say, great, that's the read option. And it is great. But I think one of the things that set that up was a couple of the play-action passes out of the pistol.

Q: Atlanta saw to it that Russell Wilson did not carry the ball on the read option based on how they deployed their linebackers . . . Kapernick's running on the read option can be taken away, correct? And in so doing, do you relinquish the middle?

Ault: That's exactly right and that's what happened in college. They would load the outside and take Kaep away, and that's why it's the read. You give the ball off. We really designed our pistol offense, where we want the running back to carry the football. That is first and foremost in our thinking. But all of a sudden, you just fall asleep, just like Green Bay, you're handing it, and handing it and handing it, and he might've been able to pull it a couple of other times, but he waited until the right time. No question, they might just say, 'We're not going to let this Kaepernick run the ball.' And we had that in college. Then, it gives you an opportunity to run the read and the play-action pass.
This was fairly prophetic by Ault, as Atlanta ended up trying to take away Kaepernick and in the process gave up over 125 yards and 3 touchdowns to Frank Gore and LaMichael James, as well as some big play-action passes. (Though not all of this was from the Pistol; LaMichael James's touchdown came on the inverted veer.)
– One of the persistent myths repeated in the otherwise very good New York Times piece mentioned above is that Chip Kelly ran the pistol at Oregon. This is, as I've mentioned before, incorrect, as Chip himself has explained:
Q. One of the recent trends in the NFL is more pistol formation. People are tracing that back to you. Your thoughts on what seems to be a melding of the NFL and college games.

COACH KELLY: Don't know. Haven't been there. Don't run the pistol offense. That's not what we do.

Chris Ault at Nevada invented the pistol offense. Just retired. Great football coach out there. There's a lot of ways to play football. Pistol, don't know that very well. We're more of a spread run team.

Trends go one way and the other. I said this a long time ago, if you weren't in the room with Amos Alonzo Stagg and Knute Rockne when they invented this game, you stole it from somebody else. Any coach is going to learn from other people and see how they can implement it in their system. Anything you do has to be personnel driven. You have to adapt to the personnel you have. There's a lot of great offenses out there, but does it fit with the personnel you have? The key is making sure what you're doing is giving your people a chance to be successful.
– As Chip observes, whether or not these kinds of schemes will be sustainable in the NFL will depend in a large degree on personnel — the supply of multi-talented quarterbacks. As Matt Hinton points out, while this year's NFL draft class has few true dual threat candidates (and few quarterback candidates to get very excited about at all, though there are some potential sleepers), there is another wave of dual threat guys working their way up through the college ranks right now.


I enjoyed this presentation on the Bear's philosophy and best sayings:


Nowadays, some teams go crazy with self-scouting: stats, odds, percentages, tendencies, and so on. One can debate how useful it is that you run to the right 54.5% of the time out of a certain formation if you have only used that formation eleven times. But the best advice I've heard for self-scouting is to identify and counter what you "always" and "never" do. If you always run to the right out of a certain formation, or you never throw the ball when you show another look, or you always or never blitz or play a type of coverage in another situation, then you better counteract that because your opponent certainly will.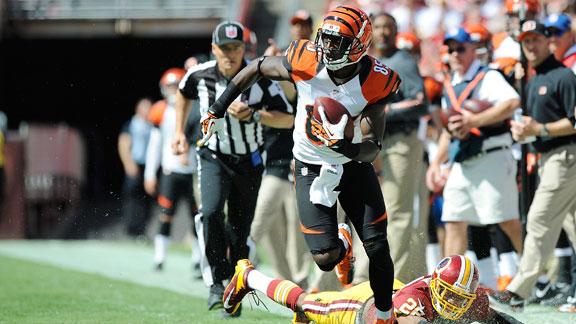 So it was this past weekend when the Bengals faced the Redskins. Bengals offensive coordinator Jay Gruden noticed that the Redskins, under defensive coordinator Jim Haslett, always ran Cover 0 when facing any kind of wildcat formation where the quarterback was not the one under center:
"We had a pretty good indication that they were gonna be in Cover-0 when we went wildcat with whoever we had back there other than a quarterback, whether it's a running back or wide receiver," Gruden told Adam Schein and Rich Gannon on SiriusXM NFL Radio this week. "It took a little bit of time, but the free safety came out of the middle of the field, and came in the box, and we knew we had A.J. one-on-one against a safety.

"And it was just Mo's job to just launch it as high and as deep as he could and let A.J. run under it," Gruden explained. "And he threw a great ball, a much better ball than he did in practice, that's for sure. It worked out great, obviously." . . . .

"Actually, it was just for this game," Gruden replied. "Because Coach Haslett, I was just watching their wildcat reel. And every wildcat snap they had, they played Cover-0. And I've been waiting for it. We practiced it this week, and I told them on Wednesday when we installed our group that this was gonna be play one of the game against the Redskins," Gruden continued. "We practiced it four or five times throughout the week, and made sure we protected it number one, and gave him a chance to step into it and launch it. And he did."
Now, there's nothing wrong with going Cover 0 against a non-quarterback formation, but, as I was told long ago, if you don't notice your "always" and "nevers," someone else will. Video of the play after the jump.


Excellent Matt Hinton piece on Denard Robinson and Notre Dame.
– Oklahoma is using the Diamond formation again.
– Malcolm Gladwell on Jerry Sandusky.
– Excellent look at Ohio State's problems against Cal with runs/formation strength into the boundary.
– Is rap poetry, and why does it want to be?
– West Virginia freshman found out he had diabetes on the eve of signing day.
– High school quarterback, coached by Todd Dodge, throws for 715 yards in a game.
– Make sure to "Like" Smart Football on Facebook.


Mike Mayock on the kick-slide:
– Podcast I did with Brad of the Indy Colts site Stampede Blue.
– Clemson walk-on is a Purple Heart winner.
– Gore Vidal has died; here are all of his writings for the New York Review of Books. I liked the one on Italo Calvino.
– Federal court wisdom: "Entering one's bedroom with a bottle in one hand and a cigarette in the other is not foreplay."
– Get your old school learn on: Princeton's 1940 Single-Wing playbook (h/t Tog). There's some pretty interesting stuff in here, from scramble rules to a signal system.
– Interesting article on former Houston QB Case Keenum's attempt to make the Texans roster. I'm not sure I agree with the sentiment that he — or anyone — "deserves" any particular NFL outcome, but I'm happy he's getting a shot and he's absolutely right when he talks about the importance of reps.
– Robert Schiller on behavioral economics.
– Lane Kiffin takes a page from the Floyd Mayweather school of recruiting.


This great video of Howard Schnellenberger and his Louisville team that thrashed Alabama in the 1990 Fiesta Bowl:
Louisville's offense, led by future top draft pick (and NFL bust) Browning Nagle, stole the headlines, but it was the defense that would produce the most NFL stars — namely future NFL studs Ted Washington and Ray Buchanan. But of course no star shined brighter than Schnellenberger himself, strutting around the locker room. (H/t Bill.)


Given that some form of a college football playoff now seems to be a reality, I am glad the BCS is gone and generally think this move to a playoff is a good thing, but I don't think there's anything inherently better about a playoff over any other system. There's no "right" way to determine what a champion is in almost any sport. In thinking through this I was reminded of a piece I wrote a few years ago on the old site. I've included it below:
[A]ll this made me wonder what the designation "National Champion" is supposed to capture, anyway. The baseline that everyone — including the President-elect — seems to push for is a playoff. So we can use that to ask about each view.
Doyel's argument seems to be that Utah doesn't deserve to be #1 because —"People, please" — you wouldn't really expect them to beat Texas, OU, or Florida, right? I mean, just look at all their bare victories over mediocre or mid-level teams. In other words, one could phrase the Doyel view as the "National Champion" is the team that you think is the absolute best team in the sense that, were they to be matched up against any other team in the country, they would always be favored to win.
That can't be right, though. That's not at all what a single-elimination playoff gives you. Had the 2007 Giants played the 2007 Patriots the week following the Giants' Super Bowl win, would Eli and Co. suddenly have become the favorite? I think not. In March Madness, with teams playing every couple of days, do we really think that the better team always wins each game? No, and that's kind of the point of a playoff.
Indeed, series-based playoff systems, like with MLB or the NBA, are presumably based on the very idea that one-game is not enough to determine the best team. So, if we still think the playoff is the best solution, then it makes no sense to say that Utah can't be the National Champion just because you think the other teams might actually be better overall. Though, if you subscribe to the Doyel view of "National Champion," then the BCS probably does a better job for you than a playoff would, because the system is all about crowning the perceived best overall team. Although it lacks the precision of a playoff, it gives you fudge-factors so that Florida's and Oklahoma's (though not Texas's) losses can be overlooked.
So, maybe instead of crowning as National Champion the best team in absolute terms, that distinction is a reward for having the best overall season. I don't really watch racing, but that seems to be what they go for with their points system. And many BCS defenders say that it makes "every week a playoff," so the best overall season gets rewarded (let's just pretend like that is true). Well, a playoff doesn't give you that either: Exhibit A – the 2007 New England Patriots. They played unbelievably all year, blew everyone out, and then lost. No one — not even them — tried to argue that they should get a share of the Super Bowl via media vote or whatnot.