For those that haven't already seen it, check it out here, over at Dr Saturday on Yahoo.com. Thanks again to the Doc.


From Slate TV: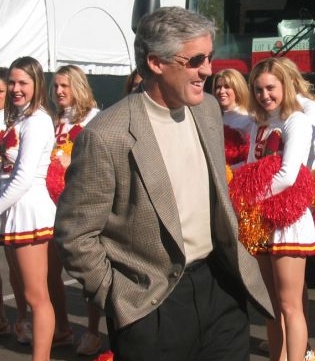 That's the title of the new profile of USC's Carroll in Esquire. Lots of interesting stuff, but here are two of the best bits. The setting for both anecdotes here is during USC's summer camp for high school kids, some being recruited by USC, others just there to be coached for a week by Carroll and co.
The [coaching] staff met in the War Room. (In a culture so steeped in tradition, everything has a fancy name.) The mood there always seems part frat house, part locker room, part battlefield HQ. There's much scathing humor and shit-giving, bro love in its highest form. Around the rectangular wood table are fourteen high-backed leather swivel chairs; each of the coaches takes the same chair every time, with Carroll at the head. Behind them, a hodgepodge of stools and folding chairs for the graduate assistants — some of them former players, some manager types who never played a down. Two walls are dominated by double whiteboards; panels slide to reveal depth charts of players and recruits; another whiteboard lists the name of every offensive play and the number of yards the play averaged last season. With desks occupying two corners and video-projection equipment in a third, the room is tight. Deep into a session you will find some of the larger guys reclining so far back they're practically in the lap of a GA.

At one minute before seven, one of the GAs walked in with two giant sacks of Egg McMuffins.

"All right!" somebody screamed. "The hockey pucks are here!"

"Pucks!"

"Go Pens!" hollered BC [Carroll's son, an assistant coach].

A feeding frenzy ensued. Large men reached and grabbed for the various bottles of hot sauce and mini containers of jelly that live permanently at the center of the table.

"It's time to get ready for some football around this muthafucka," yelled Ken Norton Jr., son of the former world-champion boxer, himself a former All-Pro linebacker. Norton had retired after thirteen seasons when he happened to meet Carroll; things just clicked. Now he's going into his fifth year with USC. Nobody gives him shit for being a UCLA alum, particularly at noontime basketball, where he's been known to let out the monster, playing Shaq to Carroll's Kobe. Since the last NFL draft, when three USC linebackers were scooped up in the first two rounds, people have begun joking that USC, once known as Tailback U, needs to be renamed. Norton's Egg McMuffin appeared tiny in his giant paw. His rocklike mandible made quick work of it. He helped himself to another.

Carroll entered from his office across the hall, McMuffin in hand. His mouth was full, he was chewing, he was wearing the silly/happy expression of a guy who's just come to work after his morning surf. "What's happenin' boys?"

"A little camp today!" hollered the defensive coordinator, Haruki Rocky Seto, "Rock" to his friends, a second-generation Japanese American named for the boxer Marciano. (His brothers are named after Sonny Jurgensen and Johnny Bench.) An undersized junior-college fullback who made the Trojans as a walk-on, Seto entered the coaching ranks as a video assistant, filming practices. When Carroll came to town for his first USC press conference nine years ago, Rocky was the kid who picked him up at the airport. Now he's in charge of Carroll's first love: defense.

"That's what I'm talkin' about!" hollered offensive-line coach Golden Pat Ruel (his actual full name). He's known Carroll since 1977, when they were both graduate assistant coaches making $172 a month at Arkansas. Like most of the veterans in the room, he'd coached in the NFL. He chose to work for Carroll for less money. "How many people do you know who enjoy driving to work every morning?" he'd testimonialized at the chalk talk.

Carroll talks a lot about his coaches "growing up in the program." He likes grooming his own people instead of bringing in established stars. He is proud of the fact that former assistant coaches, like Lane Kiffin and Steve Sarkisian, who recently departed for Pac-10 rival Washington, have gone on to head-coaching jobs themselves. "I want guys to come to the program knowing that I'll do everything in my power to get them the job of their dreams at some other place," he says.

Carroll gulped down the last of his sandwich and took his chair; the GA in charge of statistics fired up the iPod. Carroll ran the meeting briskly, a stylized form of controlled chaos. And then a few final words:

"Let's come out of our shoes today on these kids, man," he told his staff. "Let's just coach the shit out of these guys. I want lots of enthusiasm. I want you frickin' screamin' and yellin' and makin' 'em feel it. Make it memorable — but don't abuse anybody."


Over at Dr Saturday, check it out in full here. I discuss Michigan's new-look D versus Charlie Weis's big-play (at least he hopes it is) pass game. Also of note if mgoblog's great anatomy of a zone-read. It's a must read.
And, after the jump, a couple of diagrams/vids that got left off the floor for the Dr Saturday bit.


Well, I know a lot of high school coaches who would agree with this:
[T]he larger coaching issue is that once again, the NFL is stocking up on head coaches who have never been a head coach at any level, even high school, before becoming the boss in the pros.

Steve Spagnuolo, the new coach of the Rams, has never been a head coach at any level, not even when he worked for the Barcelona Dragons. Spagnuolo has been an assistant coach or scout for the University of Massachusetts, the Redskins, Lafayette, the University of Connecticut, the Dragons, the Chargers, the University of Maine, Rutgers, Bowling Green, the Frankfurt Galaxy, the Eagles and the Giants before landing the Rams headmastership. Twelve previous employers — he must have quite a collection of team apparel! But no head coaching experience before becoming an NFL head coach.

Rex Ryan, the new head coach of the Jets, has been an assistant at Eastern Kentucky, New Mexico/Highlands, Morehead, the Cardinals, the University of Cincinnati, Oklahoma and the Ravens. . . . Raheem Morris, the new head coach of the Bucs, has been an assistant at Hofstra, Cornell and Kansas State. Lots of college pennants for his dorm room — but no head coaching experience. Morris has never even been a coordinator at any level, and now he's an NFL head coach. Todd Haley, the new head coach of the Chiefs, . . . [had] no head coaching experience before becoming an NFL head coach. Josh McDaniels, the new head coach of the Broncos, has been an assistant for Michigan State and the Patriots. He didn't even collect much team apparel, in addition to less than a decade of experience, before becoming an NFL head coach.

Meanwhile Jim Fassel, Jon Gruden, Dan Reeves, Marty Schottenheimer and Mike Shanahan — a combined 701-536-4 as NFL head coaches — aren't working in the NFL this season. Schottenheimer and Shanahan each have more career victories than any active NFL coach, yet neither wears a headset. Only four active NFL head coaches have at least 100 victories (Bill Belichick with 153, Jeff Fisher with 133, Tom Coughlin with 123 and Andy Reid with 107). Yet 100-plus winners Shanahan and Gruden were just shown the door and 100-plus winner Schottenheimer can't get his phone calls returned.

Why do NFL teams keep hiring head coaches who have never been head coaches? This year, inexperienced head coaches sound good because Mike Smith and John Harbaugh, neither of whom had been a head coach previously at any level, just did great jobs in Atlanta and Baltimore. But other factors are at work. One is inexperienced gentlemen earn less than experienced head coaches. Going into the next round of collective bargaining talks, NFL owners are attempting to project a "woe is me, the wolf is at the door" financial image. There will be internal league pressure come late December for no owner to give Bill Cowher the $10 million a year that is reputed to be his price for returning to coaching, as this would counteract the league's poor-mouth campaign. Hiring inexperienced coaches to moderate salaries, on the other hand, fits the times.

Another factor is that inexperienced coaches kowtow to owners and general managers. For bureaucratic reasons, some NFL front offices prefer a head coach in weak political position. . . .

Next, the track record of major-college head coaches who jump to the pros — Nicky Saban, Bobby Petrino, Steve Spurrier — isn't good. Few Division I coaches even want NFL posts. Who in his right mind would give up the job security and fawning treatment that football-factory college coaches enjoy, in order to be knifed in the back for a couple of years in the NFL, then fired? If big-college head coaches either won't take NFL jobs or don't do well in them, owners may assume that NFL assistants without head coaching experience are the only option. But what about the universe of small-college and high school head coaches? The more coaches I meet and the more I learn about football, the more I become convinced that some of the best coaching occurs at small colleges and in high school — where coaches must succeed without huge staffs and unlimited budgets. But the NFL looks down its nose at small colleges and high schools; Mike Holmgren was one of the few successful recent NFL coaches to begin as a high school head coach.


The (excellent) Andy Staples of SI.com did a great bit on high school team nicknames recently. Among the best names Staples pointed out were the Stuyvesant Peglegs, Dunbar Poets, Watersmeet Nimrods, Cary Imps, and, the winner, Cairo Syrupmakers.
As good as this list is, it leaves out some other ridiculous ones from around the country. The best of the rest, as it were, must be the Yuma "Criminals." I'm serious. Don't believe me? Watch them enter the game by following two squadcars.
Not to be outdone are the Ribet Academy Fighting Frogs:
Or, maybe my favorite, the Laurel Hill Hoboes:


My answer can be found over at EDSBS. I go into detail at the link, but the best way I can sum it up is that offenses are like Tolstoy's families: good offenses tend to be similar in that they all are coherent, have good line play, and have balance in one sense or another, while crappy offenses, like Tolstoy's unhappy families, are crappy in their own ways.
Check out the full thing.


This might boil down to a fancy way to say something that should be obvious, but I found it interesting. When we talk about "knowledge" in the abstract we usually think of our brains like we do our hard drive: I now have more stuff in there, delineated and built up from a set of logical statements and propositions — i.e. I could, if asked and given the time, explain and write out everything I know. Yet our "knowledge" can go beyond this, to skills that can't be boiled down to logical propositions, but no doubt improve our efficacy. Imagine if our brain was a computer, but as we added more "knowledge" the processor got faster, it could handle more information at once, and more accurately and consistently found the right answer and applied it quickly. (Pretty much the opposite of how computers actually work; they work best the less they have been used.)
Well there's a bunch of formal thought with this. I've touched on how  just brain processes generally can affect players, but what about coaches and other non-athletic heat-of-the-moment decisions?
Tacit knowledge, by Daniel Little: Scientist and philosopher Michael Polanyi introduced the idea of "tacit knowledge" in his 1958 book, Personal Knowledge: Towards a Post-Critical Philosophy (Google Books link)[,] as a critique of the positivist conception of scientific knowledge and the idea of knowledge as a system of logical statements. Polanyi was trained as a physician before World War I; worked as a research chemist between the wars; and found his voice as a philosopher of science subsequently.
This []concept[] captures an important dimension of knowledge absent in most philosophical treatments of epistemology ("knowledge is a system of true justified beliefs"). The simple idea is that there are domains of knowledge [not] represented propositionally or as a system of statements, but []rather[] embodied in the knower's cognitive system in a non-propositional form. This … is more analogous to "knowing how" than "knowing that". Polanyi gives the example of a physician in training learning to "read" an x-ray. What is first perceived simply as an unintelligible alternation of light and dark areas, eventually is perceived by the experienced radiologist as a picture of a lung with a tumor. So the physician has somehow acquired a set of perceptual and conceptual skills that cannot be precisely codified but that permit him/her to gain a much more knowledgeable understanding of the patient's hidden disease than the novice. . . .
It is unremarkable to observe that many aspects of skilled performance depend on "knowledge" that cannot be articulated as a set of statements or rules (link). The basketball guard's ability to weave through defenders and find his way to the basket reflects a complex set of representations of the court, the defenders, and probable behaviors of others that can't be codified. So it seems fairly straightforward to conclude that human cognition incorporates representations and knowledge that do not take the form of explicit systems of statements. Rather, these areas of knowledge are more "intuitive"; they are more akin to "body knowledge." But they are nonetheless cognitive; they depend on experience, they can be criticized and corrected, and they are representational of the world. (Talk to a skilled athlete about a complex task like finding a shot on goal in hockey or beating the defender to the basket, and you will be struck by the degree of intuition, gestalt, and realism that is invoked. And the same is true if you talk to an experienced labor organizer or a police detective.)
What is striking about Polanyi's position in Personal Knowledge is that he shows that [this does] not pertain solely to physical skills like wine-making, playing basketball, or piloting a tug boat. Instead, they extend deeply into the enterprise of scientific knowledge itself. An experimental chemist or physicist has an uncodified ability to interpret instruments, evaluate complex devices, or recognize unexpected results that is the result of experience and training and cannot be reduced to a recipe or algorithm. [Same goes for football coaches seeing patterns in defenses, etc.]
. . .This line of thought converges to some extent with arguments that Hubert Dreyfus advanced in What computers can't do: A critique of artificial reason in 1972. (Here is his update of his position; What Computers Still Can't Do: A Critique of Artificial Reason.) Dreyfus was fundamentally critical of artificial intelligence research in the 1960s, and the strategy of attempting to codify expert knowledge in the form of a set of rules that could then be implemented as computational algorithms. His position was a phenomenological one; basically, he took issue with the idea that cognitive competences like chess-playing, problem-solving, or pattern recognition could be reduced to a set of precise and separate rules and statements. Instead, there is a holistic aspect in ordinary practical knowledge that cannot be reduced to a set of discrete algorithms.
Of special interest for Understanding Society is the question of whether ordinary people have "tacit social knowledge" of the social world they inhabit (link, link, link). What is involved in the competence a person demonstrates when he/she successfully navigates a formal dinner or a contentious union-hall argument? Can the knowledge that the competent social participant has about expected behavior from particular individuals be represented as a sum of propositional beliefs? Or, more plausibly, is this a good example of tacit knowledge, more akin to a rough map of a terrain than a codified set of statements? . . . All of this makes me think that we need richer models of mental life and competence than we currently possess (link). [Coaching and executing on the field strikes me as as much about tacit knowledge as with any kind of formal knowledge.]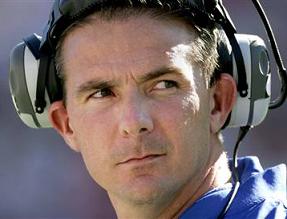 From Judy Battista's great New York Times piece from the weekend:
On the horizon is the University of Florida's star quarterback, Tim Tebow, who will enter the draft next year. He could open the door to what was once virtually unthinkable in the N.F.L.: a quarterback with the size and sturdiness of a linebacker who reads the defense and has the freedom to run as often as he passes in the college-style spread-option offense.

In many ways, change has been forced on the N.F.L. because defenses are so fast and complex, and because fewer drop-back passers, fullbacks and blocking tight ends are being produced in a college game dominated by the spread.

So it is little surprise that almost all N.F.L. teams occasionally use a four- or five-receiver offense, and that Florida Coach Urban Meyer, who has all but perfected the spread with the Gators after giving it prominence at Utah, has been asked for advice from at least four N.F.L. teams, including the New England Patriots.

"I think it would have worked years ago," Meyer said. "No one has had enough — I don't want to say courage — no one has wanted to step across that line. Everyone runs the same offense in the N.F.L. A lot of those coaches are retreads. They get fired in Minnesota, they go to St. Louis. They get fired in St. Louis and go to San Diego. I guess what gets lost in the shuffle is your objective is to go win the game. If it's going to help you win the game, then you should run the spread."
I particularly liked his line about everyone running the same offense in the NFL. I, of course, wrote the same thing several weeks ago, and had many people tell me I didn't know what I was talking about. (And anytime both Urban Meyer and Mike Leach are roughly on the same side of an issue, then that is probably the correct side.) And, Meyer might be a college guy, but he's good friends with Belichick and, as the article pointed out, multiple N.F.L. teams have contacted him.
But things are changing. Tempora mutantur nos et mutamur in illis.


I won't be able to post at least until tomorrow, but don't forget to follow me on twitter, where I'll be updating throughout the day.
Also, check out my preview for Dr Saturday one of the interesting but under the radar games, Mizzou vs. Illinois.
Here's a final thought: I have no problem with Oregon suspending Blount for the season, and I agree that it is good to keep him on the team. For his sake, at least, I hope he works toward a very important goal he still has remaining: the NFL draft, where a year of good behavior and rehabilitation (coupled with his existing talent) could do him wonders.