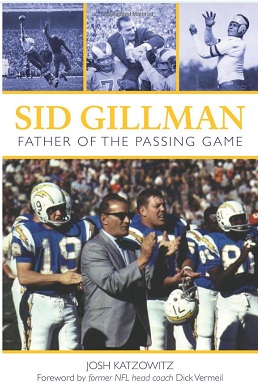 Sid Gillman: Father of the Passing Game, by Josh Katzowitz. I've long extolled the virtues and importance of Sid Gillman's role in the development of the modern passing game — and hence also football as we know it today. Katzowitz's book does a great job profiling the mercurial Gillman, showing his development as a coach and the influence he had on his players as well as on schemes, and is an important contribution to football history of a somewhat more recent vintage. Books about football coaches tend to focus almost exclusively on the handful of men fortunate enough to win several Super Bowls or National Championship games; what makes Gillman's life so interesting is while he didn't exactly toil in obscurity, he still operated as something of an outsider, somewhat he transformed into a strength.
– Everything They Had: Sports Writing from David Halberstam. I am not aware of whether or not this book has been out awhile, but I know it was recently released for Kindle and that's when I picked it up. Halberstam was of course the master, quite possibly the best writer who happened to write about sports who has ever lived. This collection is somewhat uneven (it begins with pieces he published while still in college!), but many of them still resonate, as it's remarkable how much life he breathed into simple stories about simple games. Sports are of course inherently without meaning — their entire purpose is to be a distraction from the things in life that truly matter — and yet, to effect both good and bad, sports matter to us collectively more than almost anything else in society. And what gives them meaning is both the rules of the game and the humans operating within them. In piece after piece Halberstam always seemed to push the right buttons, to reflect on sports place in the universe when appropriate and when to focus instead entirely on some human moment we all instantly understand. Plus, the guy knew how to put a sentence together.
–
Narcopolis: A Novel
, by Jeet Thayil. This book was shortlisted for the 2012 Man Booker prize, but lost out to Hilary Mantel's sequel to
Wolf Hall
(I've not read the sequel, though
Wolf Hall
was great). It's not easy to describe — the opening pages consist of a single, seemingly neverending sentence, that then gives way to a more straightforward but still dreamy narrative about the seedy underbelly of Bombay/Mumbai, featuring drugs, prostitutes, death, and all manner of disturbing sequences. As a result it's not an easy book to recommend — if that doesn't sound like your kind of book, then don't read it — but overall, while the book had some rather slow-going passages, I did enjoy it and am glad I read it. My honest opinion is it struck me as the type of book a talented writer like Thayil needed to get out (as far as I'm aware, it's his first novel) before he can bring his considerable gifts to an even more complete work next time.
Also in the pile: Cormac McCarthy's All the Pretty Horses and Walter Isaacson's biography of Ben Franklin, An American Life. I've just started both books, purely on the strength of each author's other work, and I will update with my views in the next one of these posts.